We all love the classic UK gardens that are so hard to beat.  However, just sometimes it is lovely to get away and view the gardens of another country and another culture.  We can all gain inspiration from the alternative methods of garden design and the different varieties of plants that thrive in other climates.  We can perhaps bring ideas home that we can use in our own gardens that we may not have witnessed, as well as taking a well earned break from the stresses and strains of modern life. Gardenforpleasure.co.uk in affiliation with Shearings Travel are delighted to promote coach holidays to Italy, and more specifically the Gardens of Lake Maggiore and Milan.
Trip highlights:-
Discover the beautiful gardens of Lake Maggiore's, Borromean Islands
See the marvellous botanical gardens of Villa Taranto
Visit the city of Milan, famous for the Doumo, red brick Castle and the fashion capital of Italy
There is no better time to see the stunning gardens of Lake Maggiore than in Spring or Autumn, with the scents and sights of the blooming flowers. From our base in the picturesque resorts of Baveno or Stresa we will journey to see some of Maggiore's most famous gardens. Combined with a visit to Milan with its stunning Cathedral and wonderful boulevards, it's no wonder that this city is known as the fashion capital of Italy
During our tour we will travel by boat across the lake to see the majestic Borromean islands, enjoying the magnificent gardens on Isola Bella whilst we're there. Isola Bella is a small island, wholly occupied by the Borromeo Villa and its beautiful gardens, which boasts priceless architecture and incredible blooms.
Enjoy a stroll through the marvelous gardens of Villa Taranto, housing over 20,000 plant varieties, representing more than 3,000 species and set among 7km of paths.
We'll venture to Milan, a city with an array of things to see including Leonardo di Vinci's 'Last Supper', the impressive gothic Cathedral, the striking red brick Castle, as well as a host of museums to discover and fantastic shops to explore!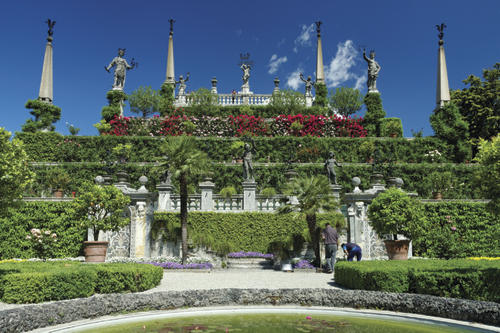 Itinerary
Key:
B = Breakfast L = Lunch D = Dinner / Evening meal
Day One: UK to Northern France
We'll make our way from the UK to Northern France, via Calais, and will spend the night at a comfortable hotel.
Day Two: Northern France to Stresa
In the morning, we'll continue our journey to beautiful Lake Maggiore, ready to embark on our garden discovery and our visit to wonderful Milan. We'll arrive in Stresa where we'll stay at the Hotel Beau Rivage for the next six nights. (B,D)
Days Three to Seven: Stresa
Take time to discover our picturesque surroundings from our resort, situated on the west shore of Lake Maggiore. Discover the Borromean Islands including Isola Pescatori, the smallest and only island that's inhabited all year round and see the wonderful Isola Bella with its ornate Palace and gardens. We will venture to see Villa Taranto with its botanical gardens housing an abundance of plants. Furthermore we'll take a trip to the cosmopolitan city of Milan. (B,D)
Day Eight: Stresa to Northern France
Our holiday draws to a close today as we travel back to Northern France for an overnight stay. (B,D)
Day Nine: Northern France to UK
We'll return to the UK today, travelling from Northern France via Calais and then continuing home. (B)
Included Excursions
Full Day: Gardens of the Borromean Islands
The unique Borromean Islands, located off the coast of Stresa, are a highly popular feature of the Italian Lakes. We'll take the time to explore the wonderful Isola Bella, with its ornate royal palace and gardens, and will also enjoy included entrance into the palace itself.
Undoubtedly the most famous of the Borromean Islands, Count Vitaliano Borromeo began the transformation in 1662 with the construction of the palace and the ornamental gardens.
The palace is full of ornate rooms, which are sure to remind you of a past full of grand receptions and sumptuous feasts. The most curious part of the palace is its grottoes; the walls are adorned with a mosaic of shells and pebbles and are a welcome retreat on a hot day!
We'll also look forward to a visit to the island's small fishing village, Isola Pescatori.
Full Day: Milan
Join our lovely scenic drive, as we journey around the shores of beautiful Lake Como, taking in the stunning mountain scenery, as well as stopping at some of the area's quaint towns and villages along our way.
Lake Como is renowned for its dramatic scenery, set against the foothills of the Alps. This wish-bone shaped lake is over 20 miles long and said to be one of the deepest in Europe. Many celebrities choose to have homes here as well, including George Clooney and Richard Branson.
Half Day: Gardens of Villa Taranto
We'll make our way to the Gardens of Villa Taranto, which are simply marvellous. The creation of Captain Neil McEacharn, who moved to Italy from Scotland in 1931, the gardens were crafted by McEacharn after he fell in love with the setting of the villa. Thanks to his passion for horticulture, he chose to create one of the world's most expansive and most intriguing botanical gardens.
Today, there are thousands of plants housed within the gardens, which surround the pretty Villa Taranto. Some of the many flowers that we'll be able to find include dahlias, water lilies, lotus flowers, and many others, and the gardens are famous for their Davidia involucrate and Cornus Florida Rubra trees, which are some of the rarest examples in the world.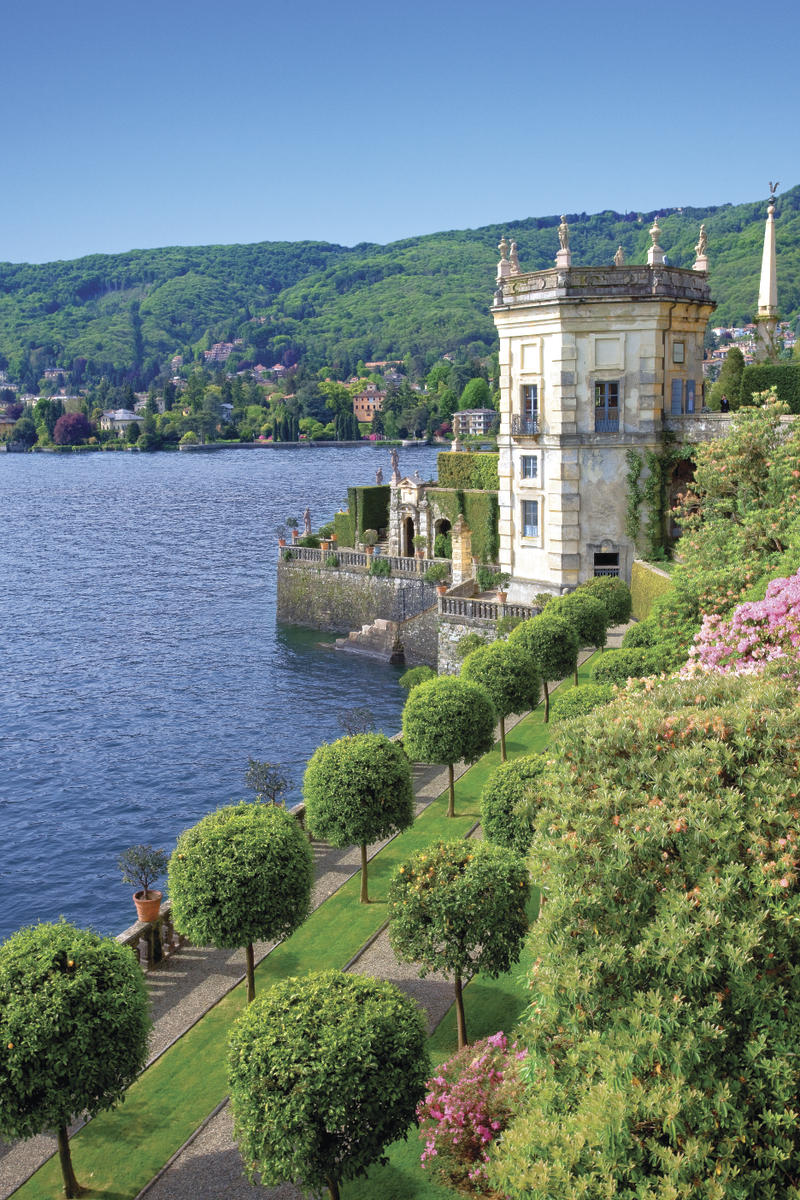 Optional Excursions
Full Day: North Lake Tour
For an excellent day out, enjoy our full day tour of the northern towns situated on the shores of captivating Lake Garda, where we'll find superb natural beauty. There are a number of towns we'll visit during our excursion, such as Malcesine and Riva del Garda, both of which offer up excellent things to do and fascinating histories.
Half Day: Lake Maggiore Tour
Discover beautiful Lake Maggiore as we venture through the lakeside towns and villages. Our journey takes us to the picturesque town of Arona, a former Roman resort with its 13th century castle. The town has a number of well know churches with great historical significance alongside a giant statue of Saint Charles Borromeo, the largest bronze standing statue in the world, second only to the Statue of Liberty. Our tour takes us to the Borromeo Castle in the town of Angera which houses one of the most important collections of dolls and toys in Europe as well as a new medieval garden.
For more details of dates, times, prices and pick up points in your area of the UK visit Shearings Travel's website via the link below:-
To view the holiday at Shearings Travel CLICK HERE