2018 is the year of the Marigold and Unwins would like to celebrate this humble flower by offering free P+P on seed only orders.
The Marigold has been around for hundreds of years; a native of the New World, it was sacred to the Aztecs. They attributed magical, religious and medicinal properties to the Marigold, believing it could treat the hiccups, being struck by lightning and help to provide safe passage over water. From there it has proved its ruggedness and durability, travelling thousands of miles around the world. As it made its way through France and Northern Africa, taller varieties of Marigolds were naturalised. We have a beautiful collection of African Marigolds including an orange, white and yellow variety, showcasing the African Marigolds beauty.
Marigolds also have great value within the world of cosmetic treatment and can be an extremely effective herb in the treatment of skin problems, especially inflammation. We are fond of Marigold tea which can help to clear fevers and stomach ache and is very calming to the nervous system. If you would like to try it yourself why not take a look at our Marigold Taishan Mix or our Orange Winner. Just dry the flower petals at a low temperature, add one tablespoon of dried petals to a cup of boiling water and let it steep for at least ten minutes. Add some honey, mint or lemon balm to enhance flavour.
      Marigold Taishan Mix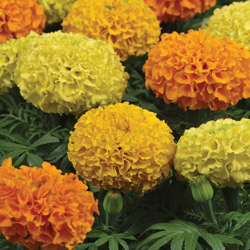 In a landscape setting, Marigolds are so easy to grow and look so wonderful, they have been used as colour edging along flowerbeds and walkways, as well as being traditionally used in gardens as borders around treasured flower beds. They are also used as companion plants in vegetable patches as scented varieties such as our French Citrus Mix will help to ward off harmful insects. Protect your basil, cucumbers, potatoes, squash and tomatoes from pesky pests whilst having a delightful display of tangerine and yellow blooms to look at. Our Flower Buyer Nikki says, 'There are so many different Marigolds. They are a very versatile flower, offering great colour and a sweet scent. The colour is so intense that it is used as a food colour in Europe. Useful, pretty, colourful, charming, nostalgic, fragrant….what's not to love?'
Use the links below to view Marigolds at Unwins :-
For Marigold African 3 in 1 Collection (pictured at the top of the article) click here
For Marigold Taishan Mixed click here
For Marigold Orange Winner (French) click here
For Marigold French Citrus click here
All images copyright Unwins