In 2018, 57% of Brits opted for a 'staycation' rather than travelling abroad.* This trend is set to continue into 2019 with people delaying holiday plans due to economic and political uncertainty created by the Brexit process and with last summer's prolonged heatwave many holidaymakers will be thinking it's best to stay put this summer.**
If you are joining the throngs of 'staycationers' this summer, why not turn you home into a five-star experience, without the extravagant expense of a luxury summer holiday?
Family friendly retailer, Robert Dyas, has all the summer gear to deck out your outdoor space and create a tropical paradise in your own back garden.
Richard Redman, Senior Buyer for Robert Dyas and outdoor expert says, "With all the right stuff, holidaying at home can be just as much fun and possibly even more blissful than a holiday abroad. So bid farewell to the early morning airport mayhem, monopolise your very own sun lounger, bring on the sangria, relax and enjoy the sunshine in your own backyard!"
Let the summer games commence
Create lasting memories of long, happy summer days with a plethora of fun garden games suitable for young and old alike.
Right on target is the Bestway Inflatable Pineapple Blast (£9.69). With a water sprayer for added enjoyment, simply inflate the pineapple, fill the base with water for stability and see if you can hook the hoop on the leaves.
Anyone for tennis? For some healthy family rivalry, this Outdoor Soft Edge Tennis Set (£7.49) includes two racquets and two tennis balls for hours of enjoyment. The soft edges make this a safer option than traditional equipment so kids can play freely without fear of hurting themselves or their opponent!
Making a splash
Time to cool off after all the lively pursuits, so why not take the plunge into the Bestway 2.44m Inflatable Pool  (£39.99)? With its sturdy 3-ply sidewalls, this pool holds an impressive 2,300 litres  and is big enough for all your family and friends to enjoy all summer long.
Simply let all your worries float away and dream of ice-cream instead on this Bestway Inflatable Popsicle (£9.69).
Or if it's a bit more of an adrenalin rush you are seeking, the 5m Bestway Water-slide (£12.99) will provide endless hours of thrills, spills and splashes.
Sizzling summer
Once you have worked up a hearty appetite, it's time to enjoy dining al fresco style. And if last summer's heatwave is set to be repeated, this summer could also be a scorcher, prompting hope that Britons could enjoy the best barbecue season of their lives.
So if you are looking to make a real statement in the barbecue stakes this summer, there's simply no better choice than an all-singing, all-dancing model such as the Outback Meteor 6 Burner Gas BBQ-Multicook (£399.99), exclusive to Robert Dyas. Ideal for large gatherings when a variety of grilled and barbecued food is required, this beauty offers four interchangeable cooking surfaces – griddle plate, grill, pizza stone or skillet plate.
Dine out in style and comfort with the Monaco 9-Seater Rattan Furniture Set (Was £1,279.99 was £849.99 now £799). The weather resistant and durable rattan weave is ideal for outdoor living and the comfy grey cushions will give a contemporary feel to your garden setting.
A superb alternative to plastic is the Cambridge Bamboo Eco-Friendly Tableware (£39.99) (online only). Bamboo has a natural durability and with its vibrant Kayan design, you'll soon be living your tropical island dream.
And what is a summer holiday without ice-cream? Treat the whole family to an Ice-Cream Roller Kit (£14.99) for the ideal accompaniment on a hot summer's day.
Summertime and the living is easy
Luxuriate in the long lazy days of summer and stretch out after lunch for a summertime siesta on the Zest4leisure Timber Garden Swing (£289.99) or rock yourself gently to sleep in this Charles Bentley Canvas Hammock (£199.99).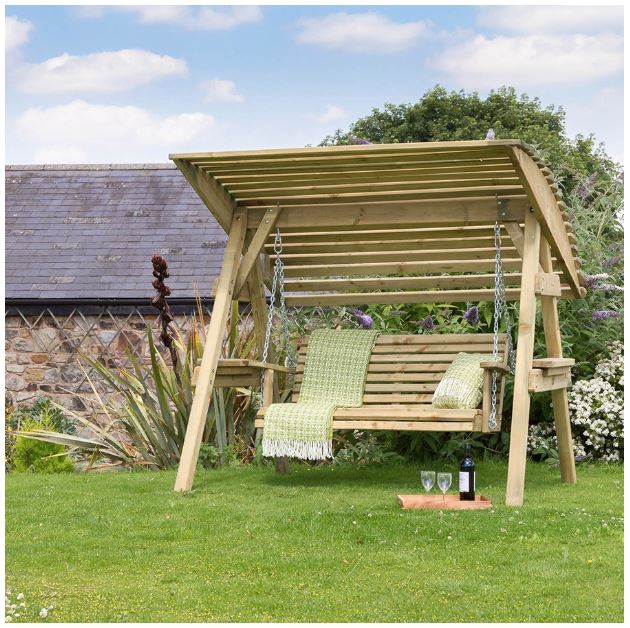 Stay in the shade
Avoid painful sunburn and be sure to protect yourself from the sun's harmful UV rays with an exotic fruit inspired parasol such as this Watermelon Beach Parasol (£7.99).
And you can even keep your condiments cool with this novelty Condiment Picnic Table (£4.99) and keep your drinks even colder with a 'wish you were here' Postcard Cooler Box (£19.99).
And as the sun sets
For an idyllic end to a glorious summer's day, invite friends and family around and sink into relaxing bubbles in the Lazy-Spa Paris (£459.99). The first tub of its kind to feature a stunning multi-coloured LED lighting system, it's sure to illuminate any outdoor space and create the 'wow' factor.
Solar lights featuring smart technology are a practical and cost-effective way to illuminate your outdoor space, whilst creating decoration and mood lighting.
Happy holidays!
Prices correct at time of publication