Montessori St Nicholas reveals its Centenary Children's Garden design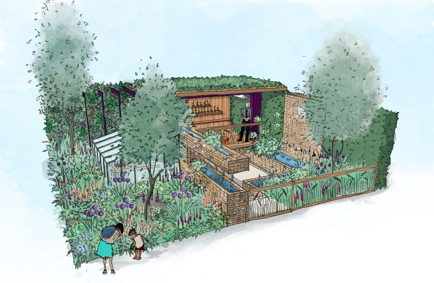 The UK's leading charity for Montessori education, Montessori St Nicholas has collaborated with award-winning landscape designer Jody Lidgard, to create a Space to Grow garden at the 2019 RHS Chelsea Flower Show. The design is intended to demonstrate children's keen interest in planting, growing and caring for a garden and their capacity to learn about the interdependence between plants, animals and the vital role water plays in all our lives.
2019 marks one hundred years since Maria Montessori first bought her pioneering teaching methods to the UK, and the garden design brief reflects the key principles that lie at the heart of her child-centric approach to education.
Leonor Stjepic, Chief Executive Officer of Montessori St Nicholas said: "Our starting point was that children in Britain are spending less time outdoors whether that is in parks, gardens, the countryside, or the coast. Maria Montessori's belief in the importance of access to the outdoors for all young children, and respect for the natural world is arguably more important today than it was a hundred years ago. Combining the natural world with the social importance of putting children first will certainly result in an exciting perspective on a garden."
This is the first time that established horticulturist and educator, Jody Lidgard, has designed a garden for RHS Chelsea Flowers Show. His challenge is to bring to life the concept of child-first and illustrate the multi-sensory nature of a Montessori classroom.
The garden design incorporates two greenhouses featuring cutting edge hydroponic technology where children can grow micro vegetables and leaves. These can then be planted outside in the vibrant and colourful cutting garden, an area where children can see their plants mature and pick them to bring inside for eating.
An edible living wall offers another opportunity for the children to grow their own food as well as providing a habitat for wildlife. This leads you through to a teaching platform, where there is a shadier living wall inspired by the UK's native woodlands. A look into soil horizons will reveal whats going on under our feet. The teaching platform overlooks the raised dipping pond which helps the children see the connections between living things and their role within it. The dipping pond then links with a water play station allowing children to learn about sinking and floating in a fun and engaging way.
Other key features include an irrigation system linking all elements of the garden together and a natural filtration system using plants to show a sustainable way to water for the future. 'Tumbling Tom Thumb' tomatoes and basil will feature in the living wall, whilst sweet peas and dahlias will add splashes of colour and flowers for children to pick.
Commenting on the design, Jody Lidgard of Bespoke Outdoor Spaces said; "The design of the Montessori Centenary Children's Garden celebrates the work of Montessori St Nicholas by being child led but future driven. We will be showcasing plants grown hydroponically, aeroponically, under artificial light and under glass in order to demonstrate the many methods of growing in small spaces that are accessible to children. This design offers an engaging space to nurture children, teach them about the natural world and allow them to explore horticulture in their own way."
The Montessori Children's Garden will have a significant social impact on young children and the wider early years community. The garden will be accessible to the local children and provide an opportunity for Montessori students to engage in its care. The wider Montessori and early years communities will benefit by having on-line access to tools that will help them to recreate the many innovative features introduced in the Centenary Children's Garden.
The Montessori Centenary Childrens' Garden will be showcased at the 2019 RHS Chelsea Flower Show 21 – 25 May 2019.
Garden for pleasure have been working in affiliation with Shearings Travel to bring you short breaks and trips to many of the RHS flower shows and other flower shows by coach. To read about these offers click here