The design for The RHS Back to Nature Garden, co-designed by HRH The Duchess of Cambridge and Landscape Architects Andree Davies and Adam White, for the 2019 RHS Chelsea Flower Show, sponsored by M&G Investments, has been unveiled.
Key elements of the woodland Garden include a beautifully crafted hollow log for children to climb through, a den, waterfall, stream and tree house.
Sue Biggs, RHS Director General, said: "We couldn't be happier with the wonderful design by The Duchess of Cambridge and Andrée and Adam for our Garden at Chelsea this year.
"The RHS's Garden is a beautiful natural space for families to get together, play, dig, grow plants, connect with nature and spend time in the great outdoors – something core to us as a charity to promote, inspire and encourage people to do.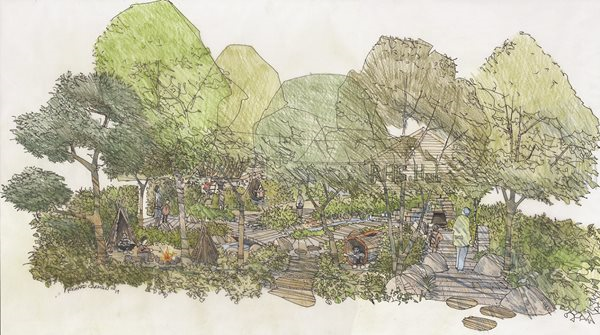 "There are many sensory elements to help children to learn. Active play in the fresh air is also important for a child's development and getting back to nature has been shown to be good for developing creativity, increasing physical activity and reducing stress."
The tree house, the centre piece of the Garden, is constructed from a beautiful tree with a high platform clad in stag horn oak. It has a natural feel, with the stag horn looking like a bird or animal that has built a home in the tree. A swing seat hangs from the branches, creating a place for children and families to play together.
There is a waterfall and stream for families to play with water, from floating Pooh sticks and chasing them along the stream, to making dams with stones and sand to attract more wildlife. Children and adults alike can balance on the stepping stones or simply relax by the stream, paddling in it on a hot day.
Wild trees and shrubs and a cool calm colour palette of green and blue provide an instant 'nature fix' to relax and calm. The playful and diverse planting includes edibles, plants for craft activities and forest scents, ranging from tiny wild strawberries to magnificent trees.
The flowers, fruits and seeds provide food for wildlife and nectar for bees and butterflies. The plants also provide nesting sites for birds, and cover for other animals to hide in the garden.
A playful pathway bordered with beautiful textures of large and small leaves weaves through the garden, around rocks and stepping stones.
The garden has been inspired by childhood memories that are triggered by the natural world, as well as special moments that will be created and treasured by families now and in the future.
The RHS Back to Nature Garden is key to the RHS's partnership with NHS England, promoting the physical and emotional well-being that access to green spaces and gardening provides. After RHS Chelsea, much of the planting and some of the landscaping will go to an NHS Mental Health Trust, as part of a national competition run by the RHS.
Continuing the collaboration and to engage even wider audiences, The Duchess of Cambridge and Davies White will be co-designing two further RHS Gardens, maintaining many of elements from the Garden at Chelsea, at RHS Hampton Court Palace Garden Festival (2 July – 7 July 2019) and RHS Garden Wisley in Surrey, which will open in the Autumn later this year.
Garden for pleasure have been working in affiliation with Shearings Travel to bring you short breaks and trips to many of the RHS flower shows and other flower shows by coach. To read about these offers click here