The collections below have been put together by the expert eye of presenter and writer Sarah Raven, taking the guesswork out of putting together your own combinations for your winter/spring containers.  The colours have been mixed as if by an artist and all the plants have been tested previously in Sarah's garden at Perch Hill.  You may have read before how I wax lyrical about Sarah's eye for colour and form in the garden, and this year is no exception.
Burnished Copper Pot Collection
This is the collection pictured at the top of the article. Purple and bronze compact heuchera leaves match the lovely Viola x wittrockiana 'Mystique Peach Shades' F1. These then form the understory to the sumptuous, scented Tulip 'Brownie'. The idea with this is to combine evergreen foliage plants in a pot or border with spring-flowering violas and tulips, so you have colour from autumn through to May. In early spring the violas come into flower, crowned by the tulips later in the spring – when you can replant your pots with your summer pot combinations. To view click here
Mahogany, Crimson and Lime Pot Collection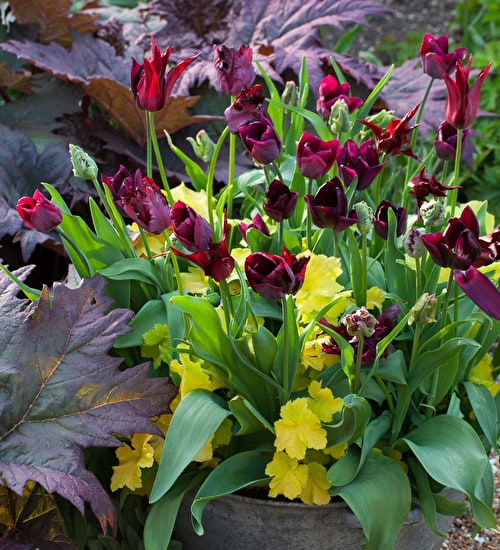 With this trio, the heuchera fills your pot through winter, topped by mahogany viola flowers as light levels increase in early spring. Then up come the tulips in April, to finish the show. To view click here
Rich Royal Windowbox Collection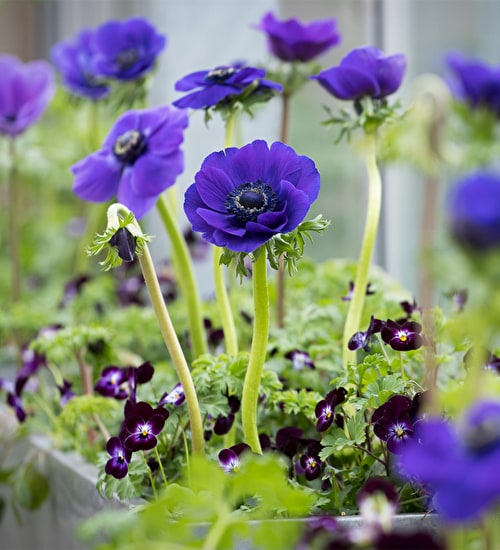 The powder puff centres of this anemone match the velvety colour and texture of the viola's flower. To view click here
Satin and Velvet Pot Collection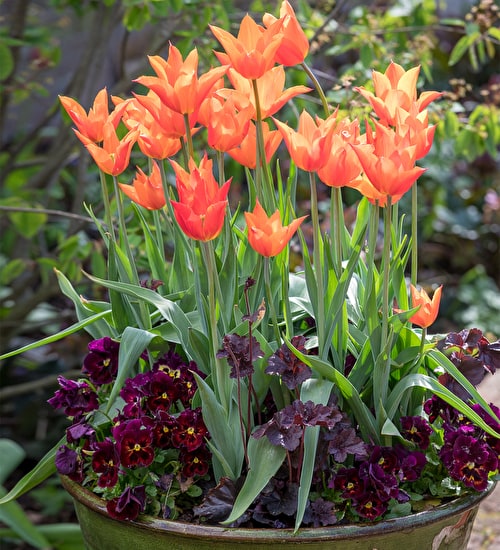 The evergreen, all-winter satin heuchera leaves are joined by purple velvet viola flowers in spring and then up erupt the freesia-scented flowers of Tulip 'Ballerina' for April and into May. To view click here
Velvet Winter Windowbox Collection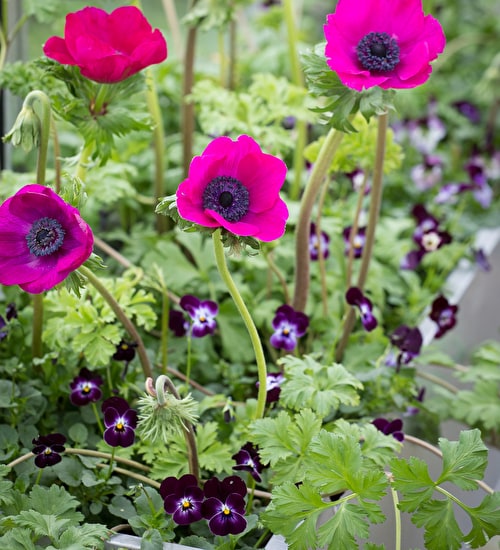 Sarah passionately recommends this winter and spring-flowering pair for any sheltered window box, pot or container. The lovely viola will flower soon after planting and continues for month after month, joined by this new whopper stemmed, huge saucer flowered anemone in February to June. To view click here
once planted, these combinations will give immense joy throughout the wintery months and as we go into the early months of next year so get your orders in while they are still available.
To view my article on Sarah Raven's Tulip and Wallflower collections click here
Mark Snelling
All images copyright Jonathan Buckley