Edible flowers give a milder flavour to salads than some of the leaves.  As well as taste they add interest with bright, attractive colours.  Their use can be longer lasting by adding to oil's, butters and cordials and, if you're not too worried about your waistline, scrumptious ice cream. There are many varieties to choose from if you know which ones to use.  Below I have chosen a few summer favourites to recommend. All varieties mentioned are suitable for container growing or in borders.  Keep them under cover until all risk of frost has passed.
Calendula Indian Prince (Pot Marigold)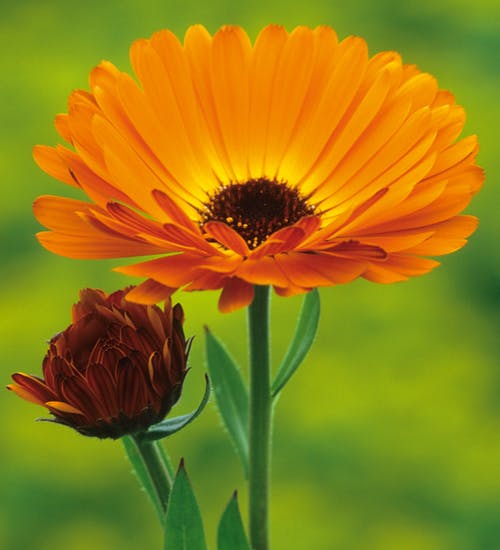 Pot Marigolds, as well as the uses already mentioned, bring an interesting peppery taste to stews and soups.  They also make our food more desirable and attractive with their bright petals. They should be regrown each year.
Borago Officinalis (Borage)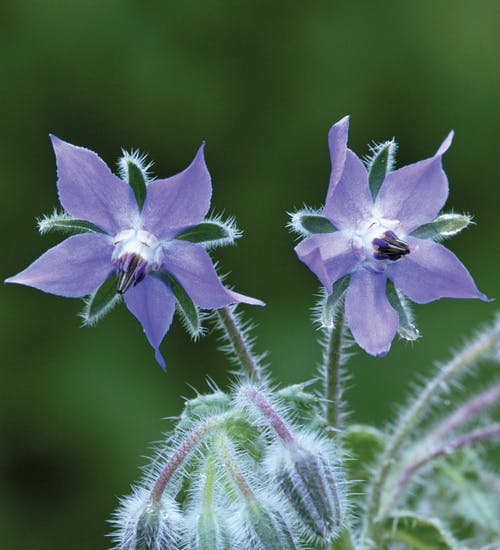 The delightful blue blooms of the herb Borage or Starflower, as well as the afore mentioned uses, can be used in Pates and cakes.  My favourite use is in a nice cold glass of Pimms and lemonade! They look very attractive frozen in an ice cube. They are normally regrown each year.
Nasturtium Black Velvet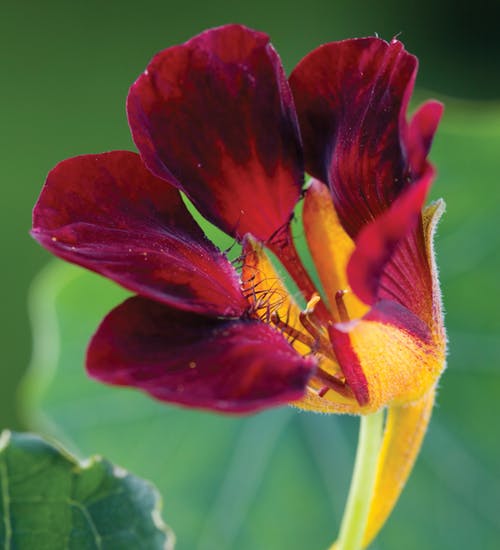 The leaves as well as the dark, alluring petals can be used in pasta dishes and salads.  It is not just the taste they provide, but this lovely variety is particularly good for adding colour that is so important in giving interest to our food. They should be regrown each year.
Collectively these three varieties will provide blooms from June to October.
Some words to the wise:-
Never eat any plant unless you are absolutely certain of it's identity and suitability.
Mainly use only the petals as other parts of the flower are often bitter.
It is sensible to use flowers you have grown yourself and that you know have been treated appropriately. Other flowers may have been soiled by dogs or livestock
If you have grown the flowers yourself you know they have not been treated with pesticides etc and are safe to eat.  Flowers bought from retail outlets already established should be left for three months before harvesting subsequent flowerings.  Flowers bought specifically labelled as edible should only have acceptable pesticide residues. Do  not treat the flowers you grow for eating yourself with chemicals.
Dip flowers in cold salt water to remove unwanted insects.
If you are susceptible to allergy, particularly pollen, do not eat flowers.
Beware of bees.
All three of the varieties mentioned are available as a collection of seedlings from the lovely Sarah Raven's website:-
To view the collection at Sarah Raven click here
Mark Snelling
Images copyright Sarah Raven
If you have enjoyed reading our blog post then why not fill in the form provided to allow us to send you our blog posts and newsletters by email.