The UK's largest repository of dried garden plants will be available online after the Royal Horticultural Society (RHS) digitised its collection of specimens dating from 1731, future-proofing it for gardeners.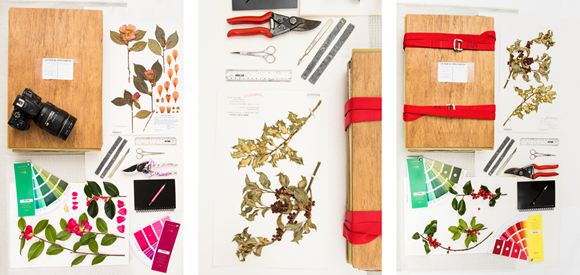 More than 86,000 dried specimens stored at RHS Garden Wisley have now been sorted and photographed with the support of the National Lottery through the Heritage Lottery Fund, during which the charity unearthed long-forgotten horticultural treasures including a potato collected by Charles Darwin and geranium that sprung from the spot where the Prince Imperial, son of Napoleon III, died. They will all be available to search on the RHS website from autumn 2020.
The opening-up of the collection will help to support conservation work and ensure an exciting future for plant diversity in UK gardens. The collection is already an essential resource for garden plant identification, containing authoritative specimens that fix the name of a plant and can be used to settle disputes. It also charts the history of plant introductions – many of which were bought back to the UK by the intrepid explorers of the 18th and 19th century – and those that have since fallen out of favour.
Gardeners will be able to use the digitised collection to identify plants, compare different cultivars, ensure consistency in garden colour schemes and confirm size and scale of plantings.
In 2020, the physical collection will also move to the new National Centre for Horticultural Science and Learning that will open at RHS Garden Wisley. The fast-expanding collection needs significantly more room to grow and in its current location the collection has to be frozen every 12 months to ward off biscuit beetle, a pest that devours dried plant material.
Yvette Harvey, Keeper of the Herbarium at the Royal Horticultural Society (RHS) said: "The process of pressing a plant for a herbarium has changed very little in 500 years but it's important we make this important national resource ever more accessible. Moving the collection online we hope will help people to navigate the fascinating history of garden plants and play a role in the development and continuing relevance of herbaria in the digital age."
A £4million grant from the Heritage Lottery Fund has enabled the digitisation of the RHS herbarium and its move to the new National Centre for Horticultural Science and Learning.
The charity is fundraising for a further £3.3million to complete the build project. The public can adopt herbarium boxes that will store the collections and have their name engraved on the wall within the new Centre. For more information and to help us to protect the future of plants, people and the planet visit www.rhs.org.uk
Image copyright RHS