Frosty nights and dark cloudy days mean that at this time of year even the most avid gardener likes to bring their hobby indoors.  This makes houseplants the ideal gift for the gardeners amongst your friends and family. Below we have chosen just a few of our favourite indoor plant gifts from Thompson & Morgan.
Spider Azalea Magisnow 'Winter Beauty'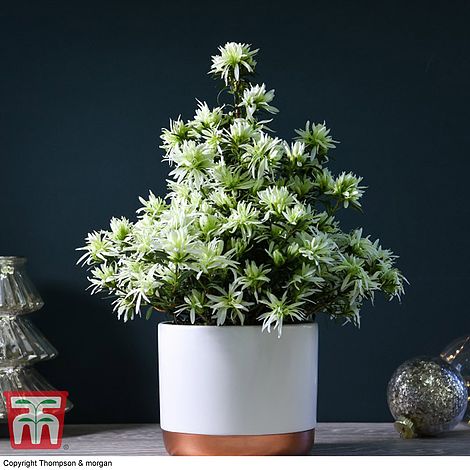 This charming Spider Azalea is full of festive cheer! Like a little Christmas tree with a white frosting of snow, the starry blooms gleam against its dark, evergreen foliage. Azalea Magisnow 'Winter Beauty' makes a delightful gift that will last for years. In winter its rounded buds burst open just in time for Christmas and last for several months. During summer it remains a shapely cone of glossy leaves that adds and exotic feel to the conservatory or even a patio table outdoors. This elegant plant will make an enchanting addition to your home!
Poinsettia 'Superba Glitter'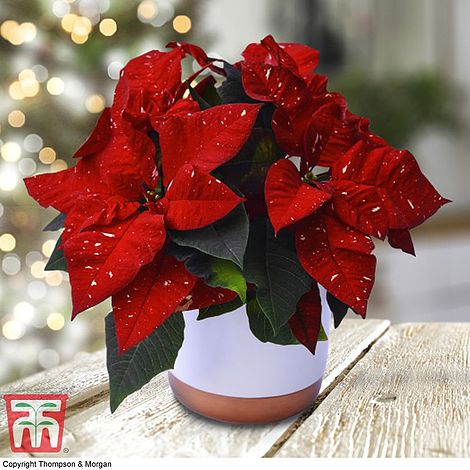 An interesting alternative to a festive favourite! Poinsettia 'Superba Glitter' boasts red leaves lightly speckled with glittering flecks of white.
Supplied in 13cm (5in) two tone ceramic pot.
Azalea 'Pink & White Bicolour'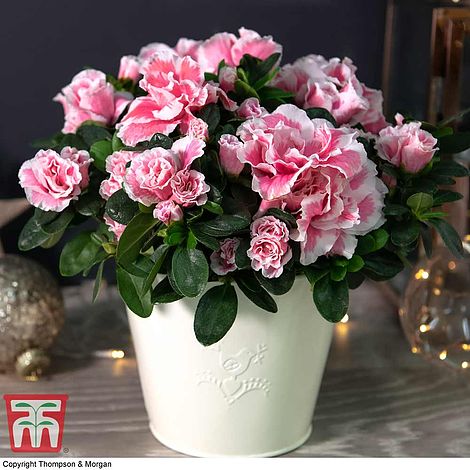 Attractive pink buds open into fancy, frilled flowers in a combination of white and glowing pink, covering this evergreen azalea. As an added bonus, it will put on another thrilling show of highly decorative flowers next Christmas and may even surprise you with a flurry of colour in summer! One heavily budded plant in a 12cm (5in) zinc pot (designs may vary).
Hyacinth in Zinc Bowl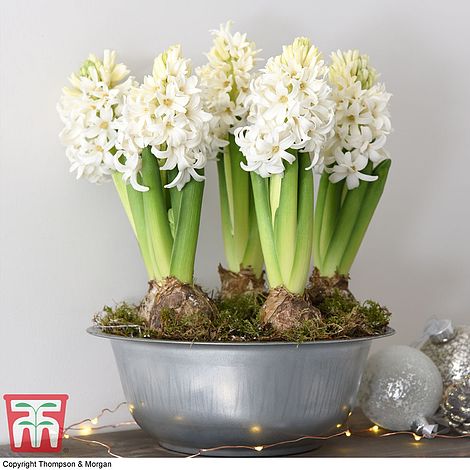 If you're looking for a bulb gift with clean, modern lines then look no further! These potted Hyacinths are presented in a simple, zinc bowl which shows off their starry blooms to perfection. With a simple, unfussy design, the bowl fits harmoniously into any modern interior, making a sleek focal point for a coffee table or bright windowsill. The perfumed Hyacinths can be enjoyed indoors and then planted out in the garden once the flowers have faded, where they will blooms again next year. Please note: Image is for illustration purposes only. Bulb colour may vary. Choose from 2 different bowl sizes:
Kalanchoe Christmas Stocking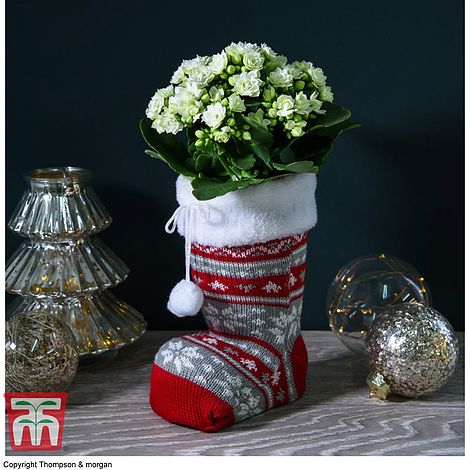 What will be in your stocking on Christmas morning? This one is bursting with the starry, white blooms of Kalanchoe making a lovely addition to your festive decor! Known to many as Flaming Katy, this charming little succulent is one of the easiest house plants to grow, making this a great gift plant! This free-flowering plant is wrapped up snuggly in its own knitted stocking – perfect for displaying on the mantelpiece or as a Christmas table centrepiece. When the decorations come down, you can move it to a bright windowsill and enjoy another display of blooms later in the year. Height supplied: approx 25-30cm (10-12″). Please note: Some houseplants are toxic or harmful to pets if ingested. If you believe your pet has consumed a poisonous plant then seek veterinary attention immediately. Take a sample of the plant with you.
To view all indoor plant and bulb gifts at Thompson & Morgan click here
A very merry Christmas from all of us at Gardenforpleasure.co.uk
Mark Snelling
Images copyright Thompson & Morgan
If you have enjoyed reading our blog post then why not fill in the form provided to allow us to send you our blog posts and newsletters by email