Ground cover plants are simply plants that have a low spreading habit and form a dense carpet.  Although you will need to control the weeds in the first season of planting of the ground cover plants, in successive years their density will block out light from the soil and smother the pesky weeds that can be the bane of a gardener's life! They are often used in rockeries and as edging at the front of borders where the bare soil means that weeds  flourish. They can be annuals, biennials, perennials, or shrubs. They may be evergreen or deciduous. Both flowering plants and plants that are grown for attractive  foliage can be used.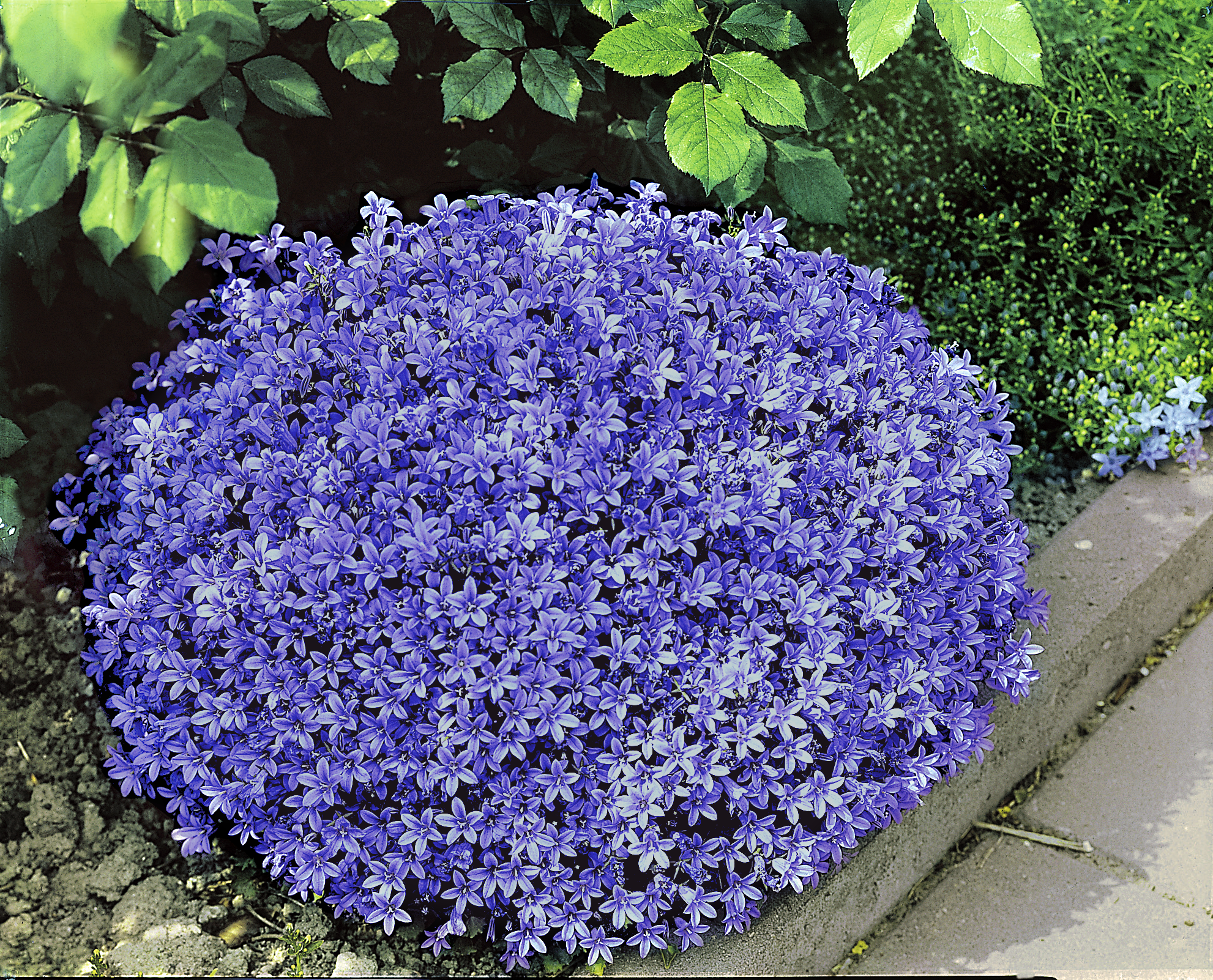 Campanula Portenschlagiana image copyright Bakker.com
There are those which thrive in full sun such as Nepeta mussinii and those such as edelweiss which are suitable for rockeries and are perfect for dry soils.  Many are more tolerant of sun or light shade.  These include Alchemilla Mollis, often photographed with water droplets on its pale green leaves.  Also included are Anaphalis triplinervis (Pearl Everlasting), Bergenia cordifolia, perennial Geraniums and Heuchera.  Hostas are fine in a much shadier spot as long as the ground is moist.  Sedums and iberis will even flower in the shade of trees and shrubs. For an acidic soil try the amazing blue flowered Gentiana sino-ornata.   For an alkaline soil try Dianthus such as the long flowering Garden pinks ( so called not because of their colour but because their petals are often fringed as if they have been cut with pinking scissors).  Wherever your bare soil lies there is a ground cover plant that will thrive there.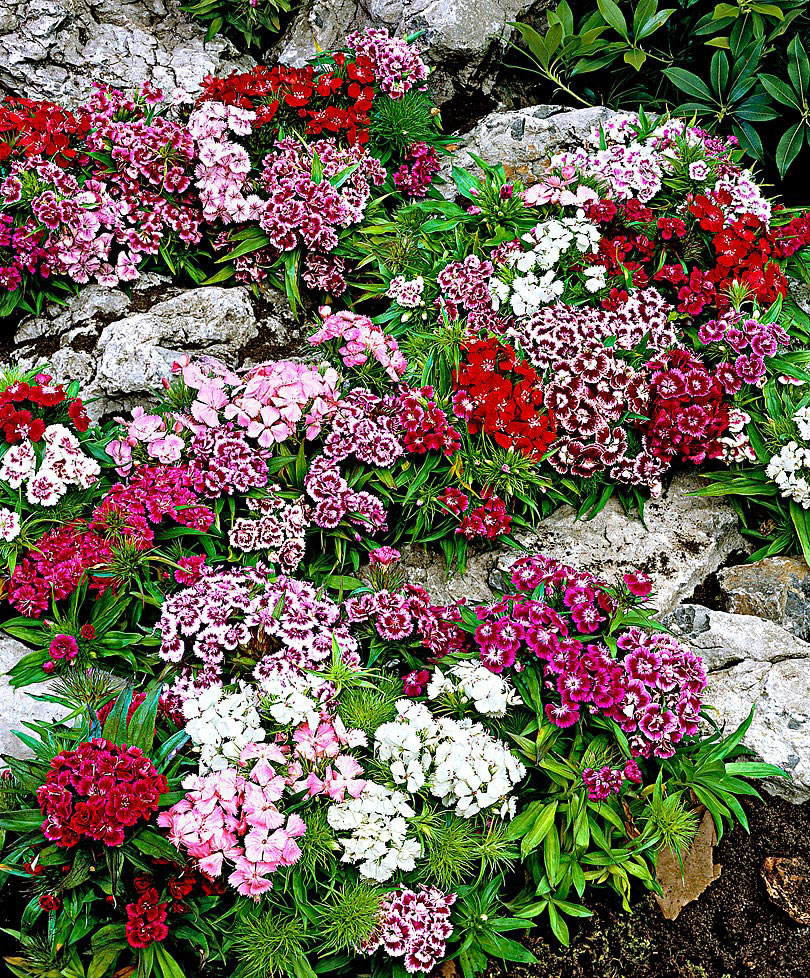 Dianthus barbatus 'Nanus' image copyright Bakker.com
Some people opt for weed killer, but with increasingly organic trends in gardening and the recent news that glyphosate could be banned,  a ground smothering plant is an ideal alternative.  With this in mind, Bakker.com, with over seventy years experience of supplying garden plants, has listed their five best-selling plants that will cover the exposed soil in your garden beating the weeds with minimal effort.
The Bellflower (Campanula Portenschlagiana) is a popular ground cover plant.  It rapidly develops into a large cushion covered with masses of little flowers, perfect for stopping the weeds in their tracks.
Yellow Stonecrop (Sedum acre) is an attractive, evergreen ground cover plant retaining its leaves in winter.  This impressive plant forms a dense carpet of fleshy, green leaves and countless star-shaped yellow florets.  Well-drained soil is essential.  This succulent is  hardy and resistant to sea winds.
This mix of Sweet William (Dianthus barbatus 'Nanus') is low-growing and just as beautiful as the common variety we all know and love.  It produces a gorgeous colourful carpet of flowers in white, red and pink.
Red Stonecrop (Sedum Spurium 'Schorbuser Blut'), pictured at the top of the article (image copyright Bakker.com) , is a very attractive and strong ground cover plant that feels at home in any type of soil.  The thick, fleshy but hardy foliage soon forms a dense clump.  The star-shaped dark-pink flowers stand out from the beautiful dark green, often slightly red tinted leaves.  It very quickly spreads forming a sensational fiery red carpet of flowers – so pretty to see.
Delosperma 'Fire Spinner' is an evergreen ground cover that flowers in late spring.  This hot little ground cover plant full of multi-coloured flowers is sure to be noticed – They will virtually set your beds and borders on fire!
To view a selection of ground cover plants from Bakker just click here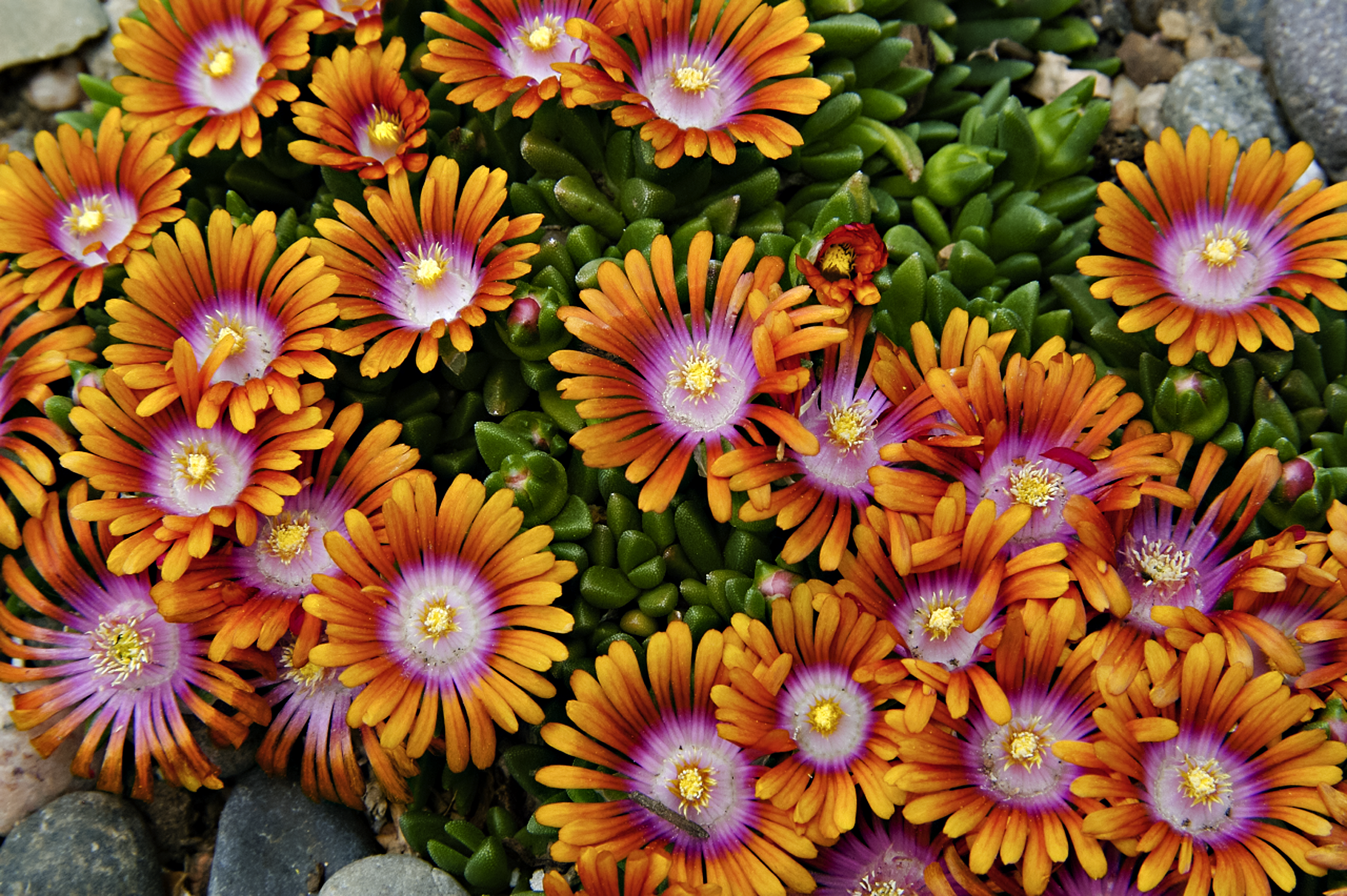 Delosperma 'Fire Spinner' image copyright Bakker.com
Adrian Nind, Managing Director at Bakker.com UK offers this top tip "Take advantage of the cold weather in winter by preparing your soil ready for your ground cover plants to go in once it begins to warm up again.  By removing bindweed, couch grass and ground elder roots you will be offering your new additions the weed free soil they need"
Pictures and care instructions for these and many other ground cover plants can be found in the Garden for pleasure plant finder.  Just click here
By using these tips you can look forward to a more chilled, weed-free season.
Mark Snelling