Lupins were introduced to the U.K from North America by David Douglas and they were a fairly insignificant perennial.  It wasn't until 100 years later in 1937 that George Russel exhibited at the RHS Westminster Show the plants that he had spent 25 years of his life breeding on his allotment in Yorkshire.  The Russel Hybrids astonished the gardening public with their straight backed stems, the fully opened standards, the rounded bells and the new breaks of colour, most notably the bicolour range.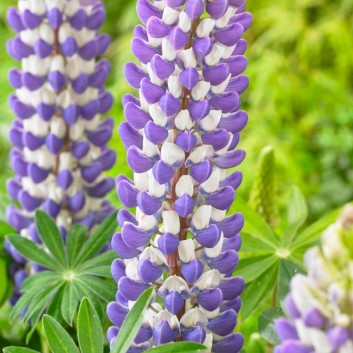 Westcountry Lupin King Canute (image copyright Gardening Express)
Moving forward in time to 1996 Sarah Conibear from Westcountry Nursery in North Devon saw a television programme which featured Lupins and was inspired to select the best forms and propagate them to sell.  Now the Westcountry Lupins are an absolute showstopper at the Chelsea Flower Show and Sarah is a leading expert in her field. Some of the wonderful attributes of Sarah's Westcountry Lupins include
Uniformity
Impressive colour range
Strong stems so no staking needed
Increased vigour through tissue culture propagation
Improved disease resistance
Good morning and evening scent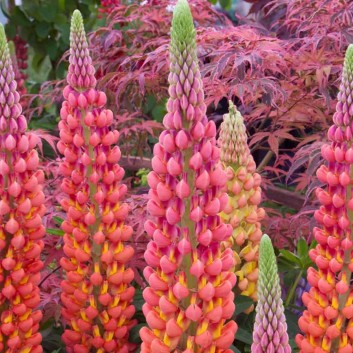 Westcountry Lupin Terracotta (image copyright Gardening Express)
Lupins will grow in most soils except for chalk, but ideally it should be neutral to slightly acidic and well drained. They are very hardy, withstanding temperatures down to -25C. They thrive in a sunny spot, but will tolerate semi shade. Sun is said to improve flower colour. As well as being stunning garden perennials, they also make a wonderful cut flower. They can also be used as an excellent container plant.
The Westcountry Lupins flower from May to the first frosts, at a height of around 60-90cm (2-3ft). They spread around 50cm (20ins). They add height and structure to your borders and are especially suited to those of you who like the cottage garden style. I highly recommend these beautiful hybrids.
To view the Westcountry Lupins at Gardening Express click here
Mark Snelling
Image at top of article copyright Westcountry Nursery
If you have enjoyed reading our blog post then why not fill in the form provided to allow us to send you our blog posts and newsletters by email.