The catalogues that we avidly view each season are teeming with new "improved" varieties of veg for you to grow that may be more disease resistant or heavier yielding, but are they always preferable? I have heard many a more senior member of society utter the words "they just don't taste like they used to". Undoubtedly newer varieties can have some superior attributes, but have we lost some equally important features along the way?
Rob Smith, horticultural expert for Dobies is one person who advocates preserving some of the older, and in some cases rarer, varieties of fruit and vegetables so that the modern gardener can experience how they used to taste. Below I have listed some notable varieties that some of you may wish to try your hand at growing in your own gardens or allotments.
Pea Champion of England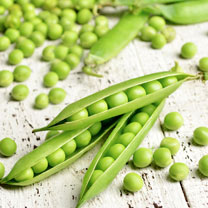 Rob Smith says:-
Apparently, this fantastic pea was bred by William Fairbeard in Kent (1843) and was grown by none other than Charles Darwin, appearing in his book 'The Variation of Animals and Plants under Domestication, 1868. 'Champion of England' quickly earned a name for itself for being a tasty, productive climbing variety and was judged as THE best pea by the Journal of Horticulture in 1876.
In the 1970's, taller growing peas fell out of favour and this pea began to disappear from seed catalogues. Fortunately, Garden Organics 'Heritage Seed Library' saved this variety from disappearing forever in 1975 and now I'm extremely pleased you are able to grow it again. Producing tall, productive plants with well-filled pods of 7-10 peas, this variety won't take up much floor space but will crop incredibly well. The fact the peas are juicy and sweet also makes it Champion of England in my eyes….and Charles Darwins! Harvest July-September.
To view these plants at Dobies click here
Squash – Honey Boat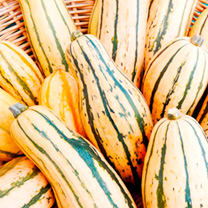 Rob Smith Says:-
The sweetest variety – and so easy to grow! Honey Boat has the same taste and texture as a Sweet Potato, but it's easier to grow and so a good substitute for sweet potatoes. I first found this squash in the United states, California to be exact, and as far as I know, no-one else in the UK is selling this great old variety. This squash is easier to grow, and sweeter than a butternut squash. It's more productive too. First introduced in 1894, Honeyboat can be left to crawl over the floor or trained up a frame, or wires. The fruits are super sweet with firm, deep orange flesh, the ideal size to serve 2 people. So, no half-eaten squash lurking in the fridge! It's also got its own built-in best before date, as the green stripes will disappear as the squash ages, so you'll always know which to eat first. This variety will keep you in roast squash, soup and any number of dishes all winter long, it's a real keeper!
To view these plants at Dobies click here
Tomatillo – Purple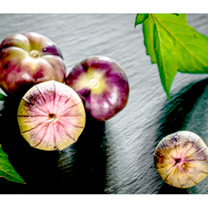 Rob Smith says:-
These tomatillos are related to tomatoes, but are easier to grow, no staking or nipping out needed. They produce a profusion of fruit enclosed in paper husks. Slightly sticky to the touch, the fruit have a tomato and lime taste.Perfect in fajitas.100-120cm tall. Harvest August-December.
To view these plants at Dobies click here
Pea – Blauwschokker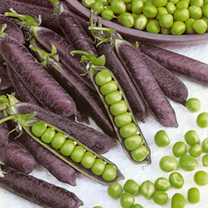 Rob Smith says:-
These peas could be mistaken for an ornamental if you grow them in your borders – the beautiful purple flowers can rival any sweet pea. But the real beauty of Blaushokker is the seed pods – they are dark purple in colour, so you'll never miss a pod again! Can be eaten young as mangetout, or leave them to mature. An amazing floral and edible variety, well worth growing.
To view these plants at Dobies click here
Kale – Red Russian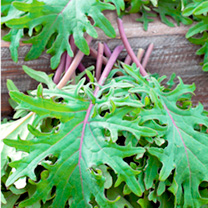 Rob Smith says:-
This heritage kale forms 60-90cm plants with green/grey leaves in the shape of giant oak leaves. As the colder weather arrives, the leaves begin to take on a red tinge (pretty enough for a winter border) and the flavour sweetens. Kale has recently been classed as a super food. But gardeners have been eating this tasty crop for centuries before anyone else jumped on the band wagon. Try making kale crisps, simply snip bite-size pieces from the leaves, wash and dry. Then drizzle with oil, sprinkle with salt and bake at 175 degrees for 10-15 minutes. They taste great and get kids eating veg!
To view these plants at Dobies click here
Tiger Nuts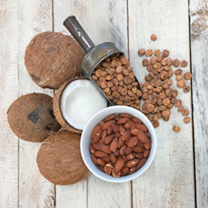 Rob Smith says:-
Tiger nuts are an easy to grow grass that produces masses of intensely sweet tubers (not actual 'nuts'). They are bigger than peanuts, tasting like almonds and coconut. They are easiest grown in a container. When you receive your plants, just pot them up into a container that is 10-12″ large. Use a good quality compost and put some gravel at the bottom for good drainage. Keep the plants watered and feed with seaweed. Move your pots outside after the last frost and keep them in a sunny spot, alternatively they can be grown in a greenhouse or tunnel. The nuts are ready to harvest when the grass dies back naturally in the late autumn. Turn your pot upside down and shake off all the soil, then wash them thoroughly before eating. You can use the nuts fresh or dry them for later use. They can be chopped and added to any dish, they are great for smoothies or to make nut milk and nut butters. You can rehydrate them by soaking them for 24 hours. Perfect to use as a nut-free peanut alternative. Heralded as a super food, tiger nuts are a natural source of pre-biotics, for the digestive system, promoting the growth of beneficial microorganisms in the intestines. They're packed full of fibre and other nutrients, being rich in Vitamin C, Iron, Zinc, Copper, Potassium, and Magnesium, that can boost metabolism and help stave off infection. They also contain high levels of vitamin E, which is known to slow down the ageing of the body cells. It also supports the elasticity of the skin and reduces skin wrinkles. Tiger nuts also contain low density lipoprotein-cholesterolor, a type of starch which resists digestion. This helps keep us feeling fuller for longer, and also reduces the amount of calories we absorb from the food. Plus, they are low in calories and fats, thus they can help as an aid to weight loss, and help to satisfy hunger. So, Tiger Nuts have all the nutrients and energy benefits of nuts, but being gluten and nut free, they do not adversely affect allergies.
To view these plants at Dobies click here
To view all plants, seeds and products in the Rob Smith range at Dobies click here
I hope our older readers get some nostalgia and our younger readers get to taste how these forgotten vegetables used to taste!
Mark Snelling
All images copyright Dobies
If you have enjoyed reading our blog post then why not fill in the form provided to allow us to send you our blog posts and newsletters by email.