The tulip has long been a beloved favourite of mine.  Their innate beauty comes at a time of year when many of our garden plants are still dormant.  Apart from a true blue, one would be hard pushed to imagine a colour of the rainbow in which their alluring blooms are not available. Their flowers are long awaited through the wintery days and their welcome appearance heralds warmer and brighter times to come.
Up until recent years I have scoured the online catalogues with bated breath to find new and scarce varieties or proven stalwarts.  Their attraction to me bridges all forms, whether they be single, double, crinkled, fringed and even undeniably bright and multi-coloured like the parrot tulips.  It however eluded me that, rather than planting carefully chosen tulips in groups of single varieties, their beauty can be enhanced further still by planting in mixtures of complimentary varieties.
However putting together these mixtures is not such child's play as one might initially think.  You not only have to choose forms with a palette of colours which sit pleasingly together, but also varieties must be selected that will be in bloom at the same time.  This is no mean feat as, although we all know tulips flower in spring, not many of us would be able to pinpoint when in the spring each variety will flower.  There are early flowering and late flowering varieties, and it is not always obvious from the catalogue descriptions whether the various forms will choose the same week to grace us with their blooms.  Therefore this is often a job best left to the nurserymen and well informed retailers.  They have often had the privilege of having visited the bulb fields or the world famous Dutch Keukenhof gardens where millions of bulbs are planted together.  Here they can plainly see which ones go together well, both in terms of colour and form and time of flowering.
 Why not choose the perfect mixture of tulips to suit your garden's colour scheme. Most of the retailers will have an increasing number of mixtures in colours ranging from the mildest pastels to the brightest hues. Some mixtures will be supplied as mixed bulbs and some will be delivered as bags of separate varieties for the purchaser to mix. As examples here I have included bulb collections from the wonderful Sarah Raven's catalogue to demonstrate their beauty and usefulness in the garden.  Writer and broadcaster Sarah dares to mix colours in a way which may have previously been frowned upon, but fills me with delight!  She has chosen to mix varieties in a fashion that others may shun through fear of criticism, but in a way that in my mind undoubtedly works. Below I have chosen just a few of my favourite collections from Sarah's nursery.
Pictured at the top of the Article is the Belle Epoque collection.  Soft, smoky, vintage colours are increasingly Sarah's favourites. With this mix of three exceptional and unusual tulips, they reign supreme. This collection contains 10 or 20 bulbs each of:
Tulip 'La Belle Epoque'
Tulip 'Brown Sugar'
Tulip 'Caviar'
To view click here
Blood Orange Tulip Collection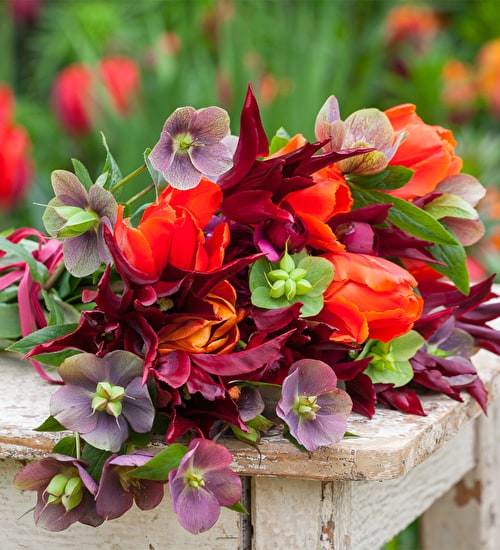 This is another favourite of mine. The most intense and saturated colours of a beautiful blood orange in this new collection of recently bred varieties. A magnificent trio Sarah had in a border with hellebores this spring. 'Request' is scented too.  This collection contains 10 or 20 bulbs each of:
Tulip 'Request'
Tulip 'Arjuna'
Tulip 'Sarah Raven'
To view click here
Dark Peony Flowered Tulip Collection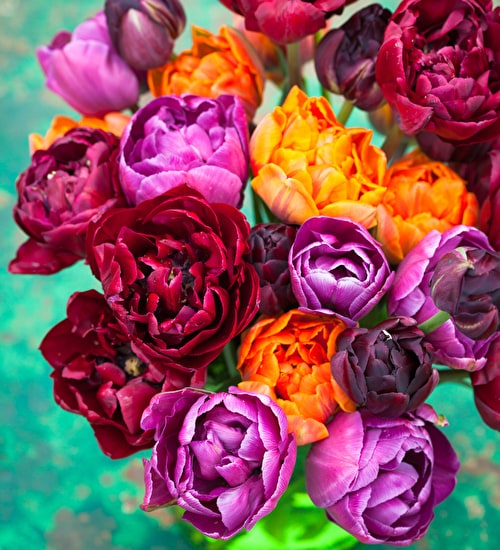 Luscious, full-petaled tulips in dazzling jewel colours, voted everyone's new favourite collection at Perch Hill, Sarah's Garden in East Sussex where all the plants she sells are tested prior to being sold from her nursery. These tulips really do look like spring peonies.  This collection contains 5, 10 or 20 bulbs each of:
Tulip 'Antraciet'
Tulip 'Black Hero'
Tulip 'Hermitage Double'
Tulip 'Royal Acres'
To view click here
Dark Secret Tulip Collection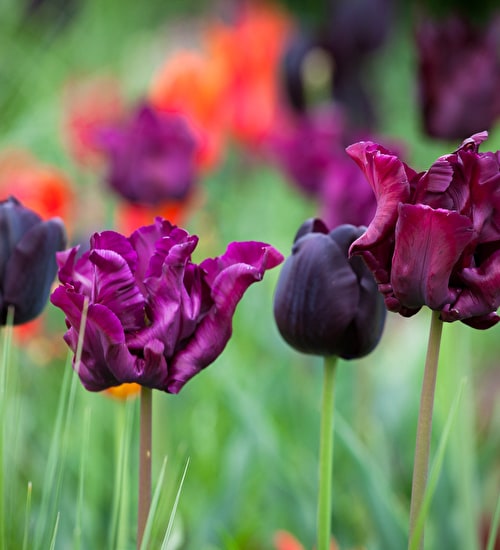 A knockout combination, plant them en masse for a rippling blueberry and blackcurrant effect. This collection contains 5 or 15 bulbs each of:
Tulip 'Paul Scherer'
Tulip 'Victoria's Secret'
To view click here
Graceland Tulip Collection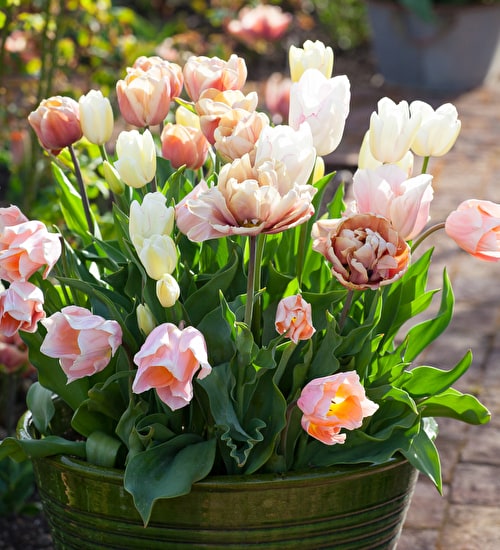 Sarah loves the new tulip 'Graceland', with ivory petals delicately outlined in purple to pick up on the feathering of the truly delicious Tulip 'La Belle Epoque'.  This collection contains 10 or 20 bulbs each of:
Tulips 'Apricot Beauty'
Tulip 'Graceland'
Tulip 'La Belle Epoque'
To view click here
Sarah Raven Dark Tulip Collection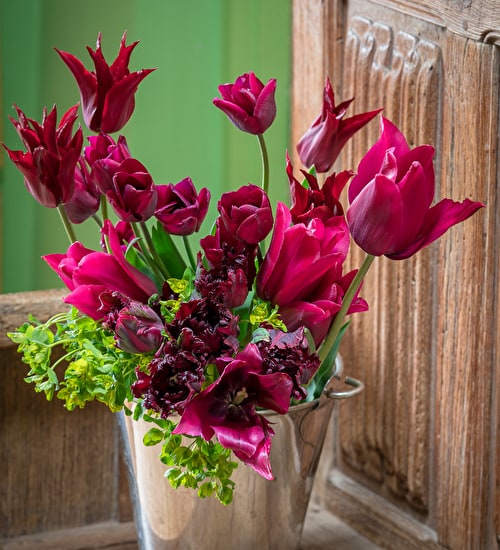 A luscious mix of Tulips in a lovely array of purple crimson, deep red and black. This collection flowers April to May, and is a great colourful addition to your spring garden or containers. This collection contains 5 or 10 bulbs each of:
Tulip 'Black Parrot'
Tulip 'Sarah Raven'
Tulip 'Merlot'
Tulip 'Ronaldo'
To view click here
The Romantics Tulip Collection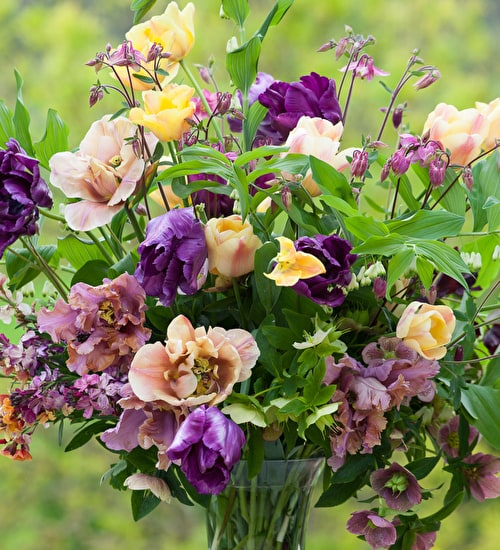 Sarah adores this new colour range – soft, blousy, romantic and supremely beautiful – a passionately recommended mix of scale, shape and colour.  This collection contains 5 or 10 bulbs each of:
Tulip 'Silver Parrot'
Tulip 'Victoria's Secret'
Tulip 'Apricot Foxx'
Tulip 'La Belle Epoque'
To view click here
Sarah Raven stocks many more stunning collections than I have had space to showcase here. To view more click here
Store your bulbs in a cool, dry place when they arrive. Planting of Tulips is best left until the soil is cold as this helps to avoid fungal and viral diseases such as Tulip Fire. In times gone by it is said that the gardeners would bare their bottoms and sit on the soil to test the temperature! Whilst I don't recommend this, leave planting until at least late October or early November.  Full planting instructions will be included with any purchases.  I hope that the article will give some of you some inspiration for a beautiful display next spring.
Mark Snelling
To view our article on Tulip and Wallflower collections click here
All images copyright Jonathan Buckley