Many among us use garlic in our everyday recipes and it is luckily an easy, low maintenance crop which takes up little room. The taste of a homegrown crop can be far superior to most in the shops. It can be planted in autumn or spring and, if space is at a premium, can be grown in patio containers. It is grown from garlic sets, which can be purchased from a reputable garden retailer, as supermarket bought bulbs may not be suited to U.K conditions.
Which Variety Should I Grow?
When reading the descriptions of the various varieties you will find that there are both hardneck varieties and softneck varieties. The hardneck varieties, as well as producing bulbs, will produce a flowering stem which can be used in salads and stir fries.  Softneck varieties do not produce this stem (or scape) but will produce bulbs that store better and longer than the hardneck varieties. Elephant garlic can produce massive bulbs with a milder flavour.
There are also varieties that are more suited to autumn planting and those that are better for spring planting.  Recommendations are often made in the online catalogues on the ideal variety for time of planting and also specific benefits of the latest breeding.
When Should I Plant?
As mentioned, there are autumn and spring varieties.  Autumn planted crops of garlic usually produce a bigger better crop, but if you have not had time to spare before Christmas you can still plant in spring and enjoy a slightly smaller crop.  As a rule of thumb plant between November and April.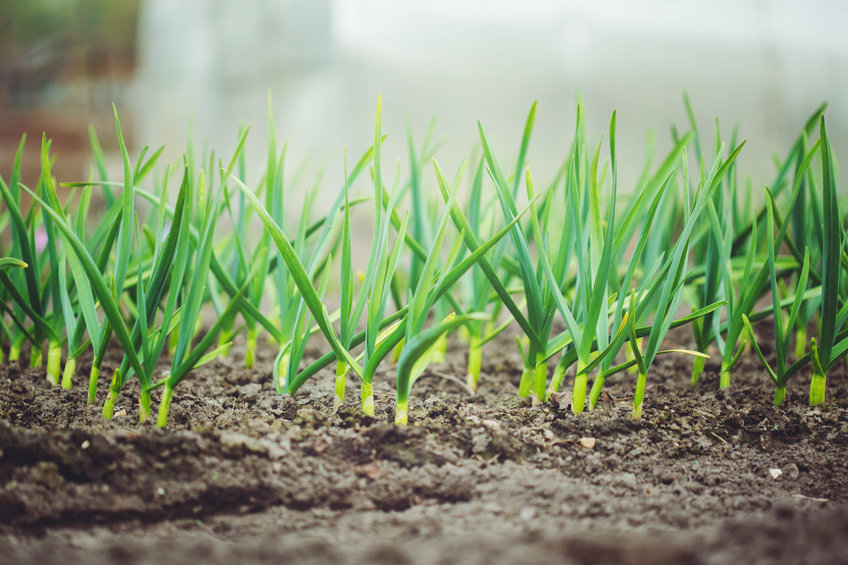 Where Should I Plant?
Well drained, nutrient rich soil is ideal in a sunny spot.  Try not to plant where garlic, onions, or other Alliums have been planted recently as this may cause problems such as white rot and rust which are incurable and will ruin your crop.
Depth And Spacing
Each bulb can be split into individual cloves and planted with the pointed end up.  Whether planting in the soil or in containers, plant the cloves around 2.5cm (1in) below the soil or compost. In the ground plant 10-15cm (4-6in) apart, spacing each row around 30cm (12in) apart.
Container grown crops require 3 cloves for a 15cm (6in) pot, 6 cloves to an 20cm (8in) pot and 8-10 cloves to a 25cm (10in) pot.
Harvesting And Storage
Harvest as soon as the leaves wither and turn yellow. Autumn planted garlic can be harvested in June or July and a bit later for spring planted crops. Carefully lift each bulb with a trowel, taking care not to damage the bulbs as this will lessen the time they will store. Lay the garlic out in a warm dry spot before storage to dry them.  Store at room temperature in mesh bags for up to three months.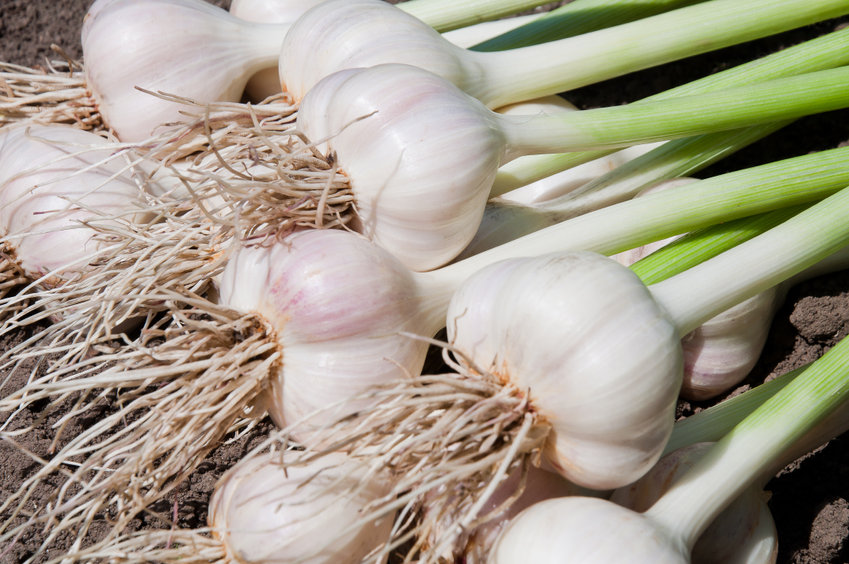 Top Tips
Only water in very dry spells as waterlogging can destroy the crop.
If you have very wet winter soil conditions, try starting the cloves off individually in module trays in a greenhouse until they sprout, and plant out in spring.  It is not recommended to grow garlic in the greenhouse for the whole length of the crop as a cold spell is required.
Birds may pull up the cloves after planting.  To avoid this try netting or fleecing the crop.
Remove weeds regularly
Garlic can be grown on the windowsill in pots, but this is for the use of the leaves for flavouring rather than for the bulbs.
To view a selection of garlic varieties at Thompson & Morgan click here
Mark Snelling
All images copyright Gardenforpleasure.co.uk
If you have enjoyed reading our blog post then why not fill in the form provided to allow us to send you our blog posts and newsletters by email.