Many of us have grown the tuberous Begonias in our garden and they are lovely plants to grow, but have you ever visited one of the flower shows such as RHS Chelsea and wondered why the exhibition quality blooms they grow there are so amazing and so huge.  That is because of the wonderful varieties that they grow, which incidentally cost a small fortune to buy from the specialist nurseries concerned.  It was not until this year that I came accross the wonderful Majestic Begonias that provide these exhibition style blooms at a fraction of the usual cost.
Below I have listed some of the main benefits of growing these wonderful varieties:-
Huge exhibition quality blooms
Wide selection of colours in the series
Ideal for the patio with a height of around 45cm (17.5in) and a spread of around 40cm (16in)
Stand up well to adverse weather
No staking needed
Thrive as well in shade as they do in sun
Self cleaning. In other words expended blooms drop off themselves to be replaced with new ones
Flower repeatedly from June to the first frosts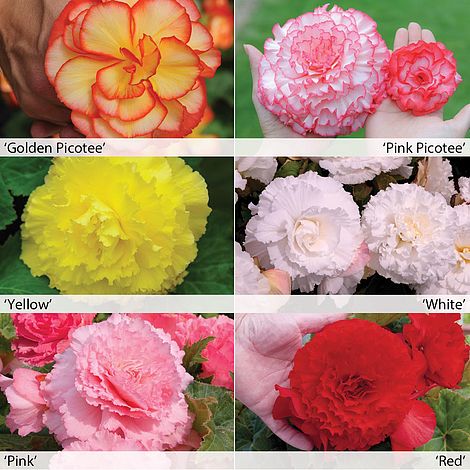 Young plants will need potting on into small pots to grow on in frost-free conditions in a greenhouse, conservatory or bright windowsill. They can later be moved on into their final containers to increase in size before acclimatising to outdoor conditions over a period of a week to ten days after all risk of frost has passed. They are suitable for your borders as well as your containers. Protect from strong winds that may damage the blooms. Feed and water regualarly, but take care not to over water as this may cause buds to drop. Any single flowers should be removed to encourage more of the amazing double blooms. After flowering the tubers formed can be lifted and stored dry throughout the winter in a frost free place to be replanted the following spring.
I really feel you are very unlikely to be disappointed by these gorgeous plants and their performance in your garden, so grab yours now while you can!
To view this collection at Thompson & Morgan click here
Mark Snelling
Images copyright Thompson and Morgan
If you have enjoyed reading our blog post then why not fill in the form provided to allow us to send you our blog posts and newsletters by email.