When I first saw this delightful new breeding in Pot Carnations I just knew I had to recommend them to my readers.  They are absolutely invaluable in our gardens.  Below I list 10 of the reasons why.
Deliciously scented blooms just like carnations of times gone by.
Larger double blooms than other Pot Carnations
Slow growing and compact, so suitable for containers as well as borders.
Blooms until the first frosts from spring until late autumn.
Fully hardy in U.K. Gardens
Well branched so more blooms.
Heat and drought tolerant. Perfect for a sunny spot.
Evergreen leaves.
Also suitable as a temporary houseplant.
Easy to grow.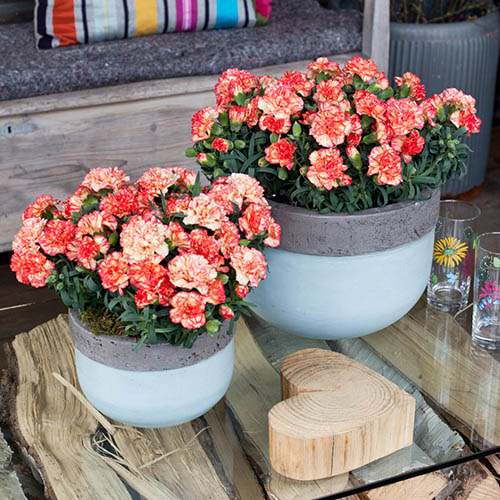 The gorgeous varieties pictured at the top  of the article are:-
Adorable Mel (Orange)
Adorable Tess (Purple)
Adorable Orphinka (bicolour pink/cerise)
Adorable Moonstone (white)
To view these varieties as a collection at YouGarden click here
Deadheading will ensure  a long and constant stream of new flowers.
Mark Snelling
All images copyright YouGarden
If you have enjoyed reading our blog post then why not fill in the form provided to allow us to send you our blog posts and newsletters by email.