All lilies are beautiful, but this breeding is all about making them bigger, better and even more beautiful.  These resplendent plants tower above other varieties, up to 5-7ft/150-215cm in maturity, looking down on previous varieties. Below I have listed some of their benefits:-
Their tall stems (1.25m/4ft in their first year, increasing with age) make them perfect for the vase.
Bred in a range of stunning colours and bicolours.
Delightfully fragrant blooms.
Ideal for both back of border planting or patio containers.
Long lasting flowers from June through to September.
Up to 20 blooms on every bulb in maturity.
Huge blooms up to 15cm/6in across.
Hardy bulbs that can be left in the ground from year to year.
Plant the bulbs 10cm/4in deep and 15cm/6in apart any time between January and May, as long as the soil is not frozen or waterlogged. After flowering, allow the plants to die down naturally to feed the bulbs for successive seasons.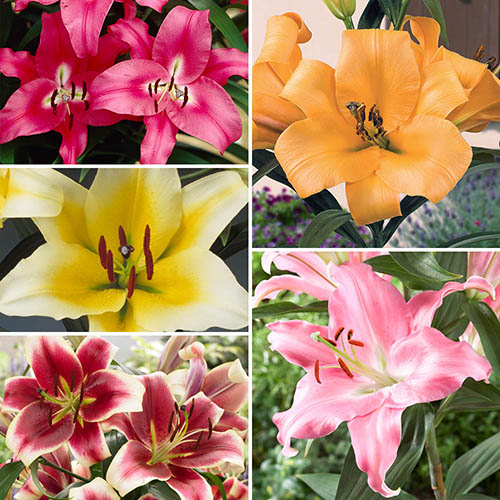 Varieties currently in the series include:-
Salterello – bright golden apricot to orange
Amarossi –  a lovely wine red
Manissa – gorgeous soft lemon yellow
Robina – nice mid pink with magenta tones
Matisse – cream-edged to red centres, a classic two-tone Lily
Mark Snelling
All images copyright Yougarden
If you have enjoyed reading our blog post then why not fill in the form provided to allow us to send you our blog posts and newsletters by email. For all major gardening products, visit our shop from the menu above.