Perhaps no group of plants have more human faces than violas and pansies and it easy to give them human characteristics. The small violas that we generally buy in polystyrene boxes can seem like so many happy chattering children while their larger cousins, the Pansies, are the partygoers. They may sometimes be overdressed, but are always lively and fun to be with. You may also enjoy other members of this family which also have 'human attributes' and which are far less well known to many gardeners.
The first of these are the scented violets. These are demure and have the character of genteel old ladies. They generally have simple small flowers that are tucked into the foliage. These days they are often only available in specialist nurseries but have a history that dates back thousands of years. There is a record of them having been sold in markets in Athens around 400 BC, and they form a classical component of monastery gardens. These have the exquisite violet fragrance and possess a charm all their own. The scented hybrids were developed from a number of species which includes the sweet violet, Viola odorata. This is a native, found tucked away in hedgerows and scrubland.  The scented violets are certainly not showy garden plants but can be grown in small colonies so that dainty posies may be picked to fragrance the home. There are single and double forms and flowers in shades of purple, white and pink. Note: to pick a posy gather the flowers in a basket with some leaves as the stems are easily crushed. Create a small posy with flowers at the centre, encircled by the fat green leaves. Put them in a tiny vase and enjoy the fragrance.
In addition to these are the refined and understated ornamental violets, lacking fragrance but having a cottage garden charm all their own. These include the horned violet, Viola cornuta and its many cultivars. These are quietly stylish, even aristocratic ladies that can be placed at the front of borders or in raised beds to charm the eye with their sometimes quaint prettiness. Enjoy the jet-black charm of Viola 'Molly Sanderson' or the soft blue flowers of resilient Viola 'Ardross Gem'.

Next is a wild child that likes to find its own place to grow. This is the purple Labrador or dog violet, once called Viola labradorica Purpurea group, now renamed Viola riviniana Purpurea Group, with purple flowers and dark foliage that will self-seed itself where it wishes. It is a delight in gravel and paving or tucked into pots or borders or other places it may choose. Pull it out if it is in a place you don't like and enjoy the sometimes unexpected places where it has set up its home.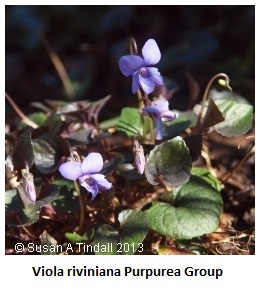 Finally the polystyrene brigade. These are the violas, violettas (even smaller than violas and lacking ray-lines) and pansies that are so easily available and often discarded once they have finished flowering.  These are bred from a number of species and there are numerous, often irresistible forms. The pansies can be used for winter and spring bedding and are a staple of container planting. They may have fervent colours or delightful whiskered faces, and are usually excellent value. They can all be given an extended life by cutting back, dead-heading, and, as with all forms, protection from slugs. Pansies with their big faces and rich colours such as the red and gold of Viola (Panola Series) 'Panola Fire' or bright yellow of Viola (Skyline Series) 'Skyline 'Yellow Blotch' are brilliant for early spring colour while the dainty yellow Viola 'Cat's Whiskers' and forms such as orange and purple Viola 'Sorbet Orange Duet' are good buys for patio containers in summer.

Add class and distinction to your garden by finding a space for some of these older ladies as well as the younger generation!
Enjoy being in your garden.
Susan A. Tindall