Windowsill gardening holds a certain attraction to some. Perhaps you live in a flat or other property without a garden. Perhaps you have no vegetable patch in your garden. Maybe you have a disability that prevents traditional gardening methods, or your age means you are unable. Maybe you just don't want the exertion and the muddy hands associated with growing your own vegetables!
If you fit in to any of the above categories you will be delighted to know that there are varieties that are perfectly suited to growing in small pots on your windowsill, patio or conservatory. Below I have listed a few of the varieties that are ideal for this purpose:-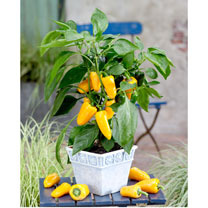 Sweet Pepper F1 Pillar Yellow – Produces small, snack-sized sweet yellow peppers. Fruit is produced near the stem to give the 'pillar' shape, perfect to fit on a windowsill. Ideal for kids lunch boxes. Harvest July-September. Height 30-35cm tall.
To view the above product at Suttons click here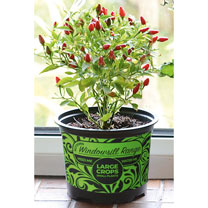 Pepper (Chilli) Fiery Flames – Very compact plants (maximum 30cm), fruits ripen from green to red. 100,000 SHU. Fruit up to 3cm long and 1cm wide. Up to 50 fruit per plant. Strong, upward facing peppers.
To view the above product at Suttons click here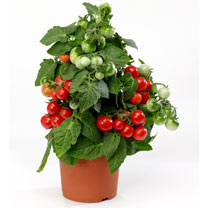 Tomato Ponchi Fa – Has an upright growth habit and is the medium sized type in the Ponchi™ series. The fruits are bright red and have a brix of about +10.
To view the above product at Suttons click here
The plants above can be grown in the pots in which they are supplied if you water and feed them regularly. For larger harvests pot them on into a 15cm (6in) pot. The difficulty that can occur is that the plants that are grown outside are pollinated by bees and other insects, whereas this will not occur inside. This can be solved by placing the plants outside for one day a week. If you want to grow them solely inside then it is advisable to tickle each flower as it opens with a small, soft paintbrush to move pollen from one flower to another to encourage fruiting.
This easy form of gardening is also useful because of the proximity of the crop to the plate. You may not even need to leave the kitchen to harvest your vegetables, let alone drive to the supermarket!
Mark Snelling
All images copyright Suttons
If you have enjoyed reading our blog post then why not fill in the form provided to allow us to send you our blog posts and newsletters by email.