Rhododendron BloomChampion are the latest breeding in evergreen Azaleas. They not only produce blooms at the normal time for an Azalea to flower in April-May, they also rebloom in July-September.  This means they can provide a huge flowering period of up to five months, as well as having evergreen foliage for the remainder of the year!
With a compact height and spread of around 1 metre or just over 3 feet, the BloomChampion Azaleas are ideal for both containers and the front to middle of a border.  If planting in the ground you will need an acidic soil. Your soil acidity can be established by using a cheap soil testing kit available from most gardening outlets.  If you do not have an acidic soil then they can easily be grown in pots in an ericaceous compost.
They are suitable for a position in full sun or partial shade.  They should be protected from hot afternoon sun and drying winds as both can damage the plant. They are fully hardy.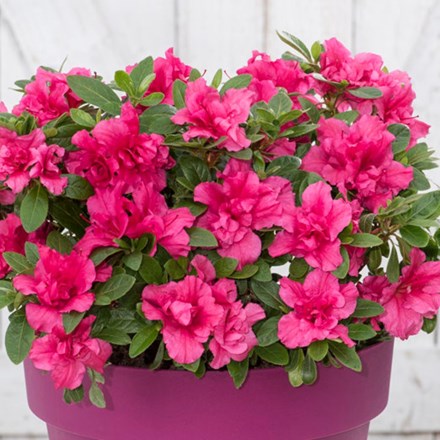 BloomChampion Azaleas are currently available in four colours.  These are red, white, pink and purple. Their many trumpet shaped, ruffled, abundant blooms are a joy to behold, smothering the entire plant. It is almost a case of why would you choose any other evergreen Azalea in preference to these when they have such a large season of interest in the garden. If you do not have a huge garden you will need to choose plants carefully so that every plant really works hard to earn it's place in your planting.  These plants really achieve this with flying colours!
To view these plants, both singularly or as a collection, at Waitrose Garden click here
If you have enjoyed reading our blog post then why not fill in the form provided to allow us to send you our blog posts and newsletters by email.
Mark Snelling
All images copyright Waitrose Garden