Suttons have proudly announced that Cercis canadensis 'Eternal Flame'®, its introduction for 2021 through an exciting collaboration with Hilliers and through partner exhibitor Stonebarn Landscapes, has won the RHS Chelsea Flower Show 'Plant of the Year' Award 2021.  This coveted award only goes to plants of outstanding qualities.
The attribute that makes this wonderful plant so unusual is the unique colour of it's foliage. The leaves begin with a glossy deep red appearance, gradually transforming through orange to yellow shades.  The changing colour of the leaves gives each stem a stunning appearance seldom seen.
Upon maturity the plant will produce dark pink blooms along the stems in April-May.  This combined with the colour changing foliage and the autumn leaf colour give Cercis canadensis 'Eternal Flame'® a long season of interest, and makes it a very hard working plant that really earns it's place in our gardens.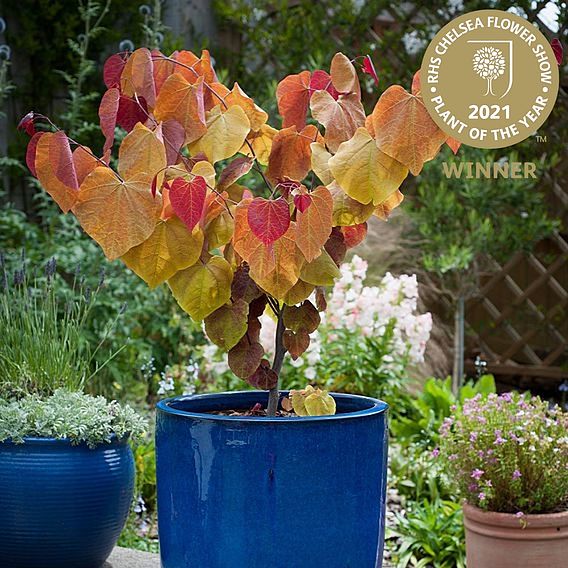 This brand new plant eventually grows to around 3-4 metres as a small tree, or can be pruned as a multi-stemmed shrub.  It is very hardy, tolerates most free draining soils and prefers a sunny spot.  It can also be pruned and kept in a patio container.
Cercis canadensis 'Eternal Flame'® may be tough to find at your local garden centre as demand for it is fierce, but below we are giving you the opportunity to own one by clicking the link to purchase one.
To view this plant at Suttons click here
Mark Snelling
All images copyright Suttons
If you have enjoyed reading our blog post then why not fill in the form provided to allow us to send you our blog posts and newsletters by email.