Sempervivums, also known as Houseleeks or Hens and Chicks, were a plant often seen in rockeries in the nineteen seventies and were widely available on the plant stall at your local jumble sale as they are easy to propagate and grow. They sadly fell out of fashion for some time. That is until new breeding made them desirable, sought after and collectable for our modern gardens.
Renowned American horticulturalist and nurseryman Chris Hansen has spent five years breeding and selecting new varieties with the best attributes, before launching them as Chick Charms®. These are a series of colourful Sempervivums which are collectable. These are aimed at attracting a younger generation into gardening. Ease of growing these wonderful plants has made them attractive to gardeners of all levels.
Chris intends to add some new varieties to the series each year to add to your collection so that people will always be searching for the latest variety. The colourful and unique information label supplied with each plant makes them even more collectable.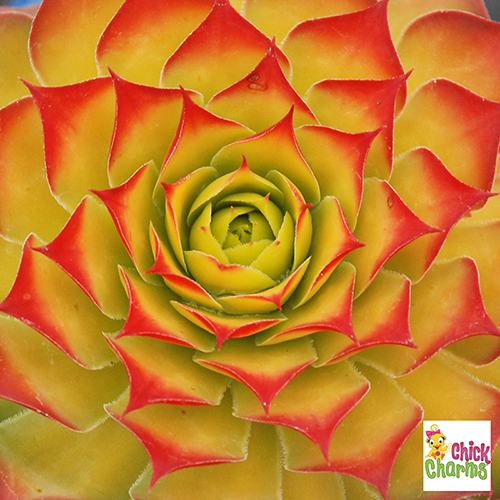 The biggest hit has been the extraordinary 'Gold Nugget' which has golden leaves with bright orange tips. What a stunner!
These plants are perfect for the busy, modern gardener with little time to mollycoddle their gardens. If you forget to water Sempervivums for a couple of days they will not curl up and die like many of our container plants. They are suitable for many situations, are perennial and very low maintenance.
These low growing succulents come in a wide variety of colour combinations and forms. You will not have to climb a ladder to prune them! In fact you will not have to prune them at all. They are called Hens and Chicks because new offsets form around the original plant like chicks around a mother hen. They are drought tolerant and will even grow in cracks in walls and paving. They got their common name of Houseleeks as they were once used to plug gaps in leaking roofs.
Simply give these plants sun and good drainage and they will thrive for you. Added grit in the compost will help with the drainage. They are ideal for pots, trays and alpine sinks in a sunny spot. Each variety will surprise you with various coloured flowers which pop out of the top. As the original plant flowers, that rosette will die. But don't worry, if you remove the dead rosette, by simply pulling it out, and fill the gap with a little gritty compost, new rosettes will form in its place. The plants are constantly reincarnating themselves in this way.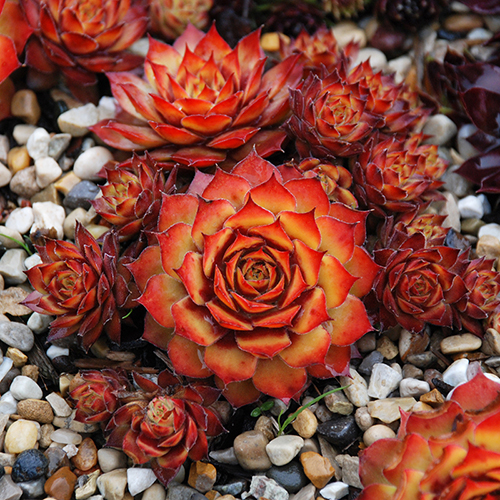 The intensity of colour of each variety will depend on temperature and light. Some of the most remarkable varieties bred so far include the following :-
Gold Nugget – The most unsual form ever! Flame orange tipped yellow leaves
Appletini – Emerald green with chocolate tips
Berry Blues – Silver-Blue that can flush pink/purple
Key Lime Kiss – Bright green
Mint Marvel – Green with red tips
Plum Parfait – Plum with a hint of green
If like me you are constantly searching for the next development in plants and the hottest new introduction, you will be fascinated by these gorgeous plants.
To view the collection at YouGarden click here
Mark Snelling
All images copyright YouGarden
If you have enjoyed reading our blog post then why not fill in the form provided to allow us to send you our blog posts and newsletters by email.