If you have been lucky enough to holiday in warmer climes you can bring a touch of the Mediterranean home to your conservatory, house, greenhouse or summer patio with citrus plants . Their scented blooms will evoke memories of happy, relaxed times.  They are evergreen and also have the benefit of flowering and fruiting, giving them all year round interest.  Below are ten tips on caring for your citrus plants.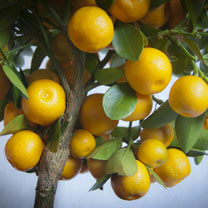 Plants are often supplied in large enough pots to grow your citrus plant for at least a year or two, but when repotting is required use a loam based compost such as John Innes No.2 with added grit for drainage.
In winter plants should be kept in a sunny conservatory, greenhouse or on a bright windowsill where the temperature is at least 4C (38F).
During the hot summer months move the potted citrus into a sheltered sunny spot in the garden or on a balcony or terrace.
Pots should be stood on  a saucer of gravel and water if in a dry atmosphere to increase the humidity.  This will help to prevent leaf drop.
In summer it may be necessary to water your citrus daily in warm weather.  This will need to be drastically reduced in winter months so that the roots are kept just moist.  Often once a fortnight in winter is sufficient.  Overwatering in the cooler months can cause the roots to rot.
In summer feed the plants weekly with a specialist citrus feed to promote fruit growth.
Separate feeds that are formulated to use in winter are available.
Fertiliser salt levels can build up in the compost causing harm to the plants.  This can be avoided by taking plants outside twice a year and drenching the plants with water to wash salts through.
Fruit and leaves can be picked for their various uses or left on the plant as an ornamental feature.
To shape the plant and to encourage bushy growth trim plants in spring as the new growth begins to sprout.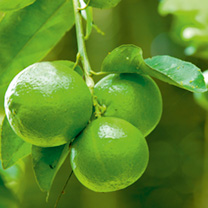 To view Citrus Plant – Orange at Dobies click here
To view Citrus Plant – Lemon Eureka at Dobies click here
To view Citrus Plant – Kaffir Lime at Dobies click here
To view Citrus Plant – Lime at Dobies click here
To view Lime Plant – Yuzu at Dobies click here
To view Lime Plant – Caviar Lime at Dobies click here
To view Citrus Plant – Grapefruit at Dobies click here
To view Citrus Plant – Calamondin at Dobies click here
To view Citrus food at Dobies click here
Mark Snelling
All images copyright Dobies