I have long had a fascination with the deepest darkest flowers that are the nearest you can get to black.  I don't know whether it is because they are dark and mysterious, their rarity or whether it is simply the stark contrast between black flowers and the surrounding foliage and blooms. Below I would like to highlight some of my favourites.
Helleborus × hybridus Harvington double purple
Pictured at the top of the article
Sumptuous and brooding, the gently ruffled flowers of this impressive Lenten rose will add a bit of body to the late winter and early spring border. The flowers are highlighted by the yellow-green eye, but if you want them to really stand out, plant them in front of a light coloured wall – or a shrub that has yellow or silvery foliage.
Papaver somniferum (Paeoniiflorum Group) 'Black Paeony'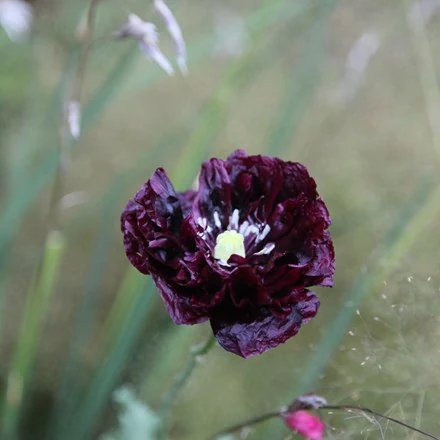 Fantastically large flowerheads are packed with dark plum (almost black), crumpled petals, which give the flower a frilly effect. These magnificent blooms sit on top of stout stems in summer and as the petals fall, attractive seed heads remain, which will add interest to the border for several months.
Scabiosa atropurpurea 'Black Knight'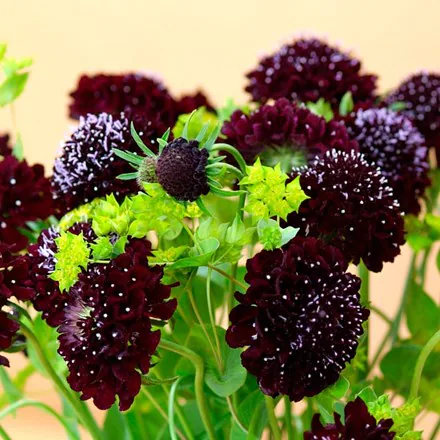 Deep purple-plum pincushion-like flower heads create a dazzling display throughout the summer. They will attract butterflies and bees to the garden, look great in a vase (especially when combined with lime greens), and have a sweet scent. Easy to grow, these short-lived perennials provide bold colour in the border and look great in naturalised planting schemes.
Calibrachoa 'Can-can Black Cherry' (Can-can Series)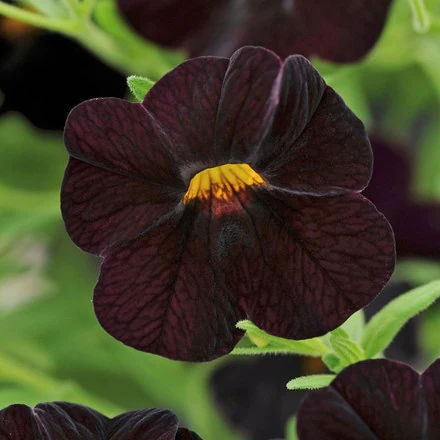 Dark, almost black trumpet shaped blooms, 'Can-can Black Cherry' is a gorgeous, cascading summer bedding plant that is well suited to tumbling over the edges of hanging baskets and pots and containers. More vigorous than the Cabaret series of calibrachoa, it has the same superb features of free flowering, well branched plants with season-long flowering even under wet, low light conditions.
Iris chrysographes 'black-flowered'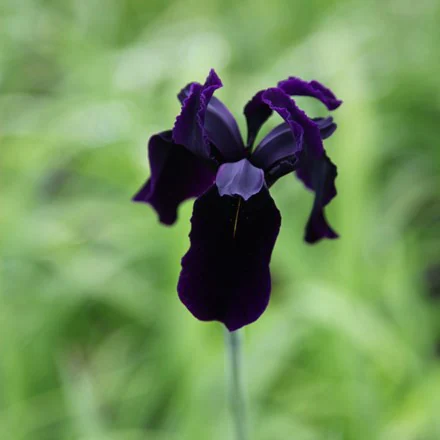 Stunning, deep purple, velvety flowers with gold streaks on the falls appear from May to June above strappy, grey-green leaves. This clump-forming, beardless iris, related to the moisture-loving Siberian iris, makes an eyecatching feature in a boggy area of the garden, or beside water.
Aquilegia vulgaris var. stellata 'Black Barlow'
A popular cultivar among garden designers, this lovely granny's bonnet has beautiful, fully double, spur-less purple-black flowers in late spring above fern-like green leaves. It looks gorgeous with other black flowers and is equally at home in cottage-garden schemes or among grasses. It thrives best in soil that retains moisture over the summer. It is easy to grow and quite short-lived, but self-seeds freely, though rarely to nuisance level.
Alcea rosea 'Nigra' (hollyhock)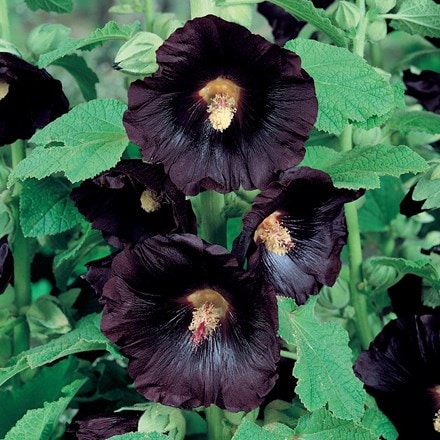 Towering stems rise above the hairy, lobed leaves from early summer bearing richly coloured, near-black, single flowers, each with a yellow throat. A magnificent biennial or short-lived perennial, this hollyhock is made for a cottage garden setting.
To view these and many other black flowered plants at Crocus click here
Mark Snelling
All images and descriptions copyright Crocus
If you have enjoyed reading our blog post then why not fill in the form provided to allow us to send you our blog posts and newsletters by email. For all major gardening products, visit our shop from the menu above.