Dobies have been supplying flower and vegetable seeds direct to gardeners since 1894, starting in the Chester area, and for over fifty years now, to customers throughout the UK.  Dobies are proud to have been awarded the coveted "Best Buy" Seed Supplier by Which? Gardening with "an impressive 91% of seed producing healthy seedlings". Dobies catalogue and user friendly website include helpful plant raising advice and photos of most varieties.  They regularly top 'Best Buy' price comparisons. In BBC Gardeners' World magazine November 2010 issue, they top all three Seed Price Comparisons. Ross Bayton writes "Dobies of Devon consistently showed best value for money in our comparisons. With seeds from 75p per packet, you can't go wrong with Dobies!"
Below I pick a few of my favourite new additions to their range for 2021.
Sweet Pea Seeds – Fire & Ice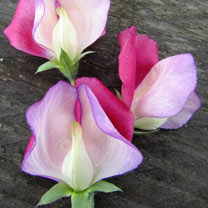 Dobies say:-
The Sweet Pea Seeds – Fire & Ice produce fantastic white, purple and pink flowers accompanied by a strong sweet fragrance. This variety of sweet pea grows with longer stems making them perfect for container and patio pot displays. The Sweet Pea Seeds – Fire & Ice is a Modern Grandiflora type that grows to a height of 151–200cm (59–79″); spread 21–30cm (8–12″). Train them to grow up decorative trellises, obelisks or even arches. Grow them in your flower beds and flower borders for a sweet scented and colourful display.
Sweet peas have been a long standing favourite and it's clear to see why with bright colours and the added bonus of a fantastic and iconic fragrance. The Sweet Pea Seeds – Fire & Ice flower between June and early September and will transform your garden with vibrant flowers.
Calendula Seeds – Bulls Eye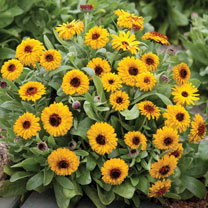 Dobies say:-
The Calendula Seeds – Bulls Eye are a very unique plant, producing beautiful pom- pom style flowers. These magnificent flowers will not only add fantastic frilly shapes to your flower beds and flower borders but add profusions of bright sunshine yellow colours too. These beautiful bright colours contrast well with the dark flower centres, where they get their namesake the Bull's Eye.
Growing in compact clusters, these large flowers are perfect for filling flower pots or patio containers. Each flower growing up to 6cm wide, they will create fantastic eye-catching displays around your garden. This variety of Calendula was the winner of the Fleuroselect Novelty Award 2020 and is highly commended by international judges. Growing to a height of 40–50cm (16–20"); spread 41–50cm (16–20″).
Cosmos Seeds – Pink Popsocks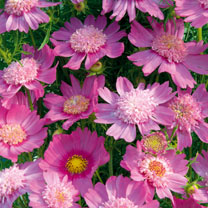 Dobies say:-
The Cosmos Seeds – Pink Popsocks are a fantastic flower growing to a height of 51–60cm (20–24") making them a spectacular flower to tower over other varieties in your flower beds and flower borders. Being so tall they can be used in cut flower displays around your home too. The bright pink flowers will certainly be an eye-catcher wherever they are.
These amazing flowers look like no other cosmos around with a 'powder-puff' styled centre. This creates a stunning contrast of colours that will really stand out when planted into a decorative container or patio pot. When planting Cosmos Seeds – Pink Popsocks, take into consideration that they are loved by bees and other pollinators. They will soon be buzzing with local wildlife and help to support new habitats for them. So not only will you have beautiful looking flowers in your garden but you will be helping the bees too!
Flowering from June–September, the Cosmos – Pink Popsicle can be enjoyed all through the summer months.
Tomato Seeds – Veranda Red F1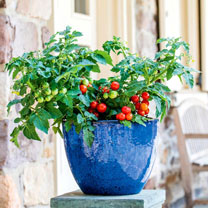 Dobies say:-
British bred, taking 15 years breeding to perfect, this is an incredibly productive little plant (up to 75 fruit per plant). Bred by the man who created 'Red Alert' and 'Tumbler'. Very early (mid-July) ripening. Sweet, cherry-sized fruits that were very popular in taste tests.  12–16g fruit. Loved by Carol Klein at RHS Hampton Court Flower Show 2019. Finally a great tasting, compact, bush tomato with flavour! Ideal for patios, balconies and anywhere else too small for a regular tomato. Can even be grown in pots as small as 11cm wide. No staking or support required, just water and harvest. Good resistance to Fusarium, Verticillium and some resistance to late blight. Bush Variety. Harvest mid-July–October. Height 21–30cm (8–12″); spread 31–40cm (12–16″).
Pepper Chilli seeds – Chocolate Habanero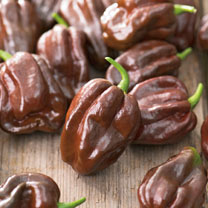 Dobies say:-
Pepper Chilli Seeds – Chocolate Habanero are a spectacular chilli variety originating from Jamaica. These chilli peppers are richly flavoured and used to make jerk sauce. With a rich smokey flavour, the habaneros that are produced by this variety are one of the hottest around! A fiercely hot 300,000–400,000 SHU!
Called the Chocolate Habanero not for it's flavour, don't be fooled this is no sweet treat. Named after its dark brown colouring, making it look like a delicious chocolate. Once the seeds are established, the bushes grow fairly large to a height of 71–80cm (28–31″) and a spread of 41–50cm (16–20″) with strong stems. The Pepper Chilli Seeds – Chocolate Habanero is ready to harvest August–October.
To view all the new seeds from Dobies for 2021 click here
Mark Snelling
All images copyright Dobies
If you have enjoyed reading our blog post then why not fill in the form provided to allow us to send you our blog posts and newsletters by email.