What could be a greater gift for a gardener than to have a beautiful indoor plant that they can tend and enjoy throughout the dark winter months.  Perhaps you know someone who you would like to send one of these stunning gifts to.  Below we have chosen some of  our favourites available this Christmas.
Hibiscus 'Festive Flair' – Gift
(Pictured at top of article)
Sent out in bud, these exceptional, long-life hibiscus plants will deliver weeks of smiles as the blooms unfurl, and they just keep on going. The decorative candle buds remain tightly closed for up to 14 days before swirling open into the most lavish tropical flowers, each up to 15cm (6in) across. As one fades another opens, with each bloom lasting for an incredible 4-6 days! 'Festive Flair' will re-bloom many times during the year indoors and can also be moved to a sheltered patio during the summer months.
Spider Azalea Magisnow 'Winter Beauty'Gift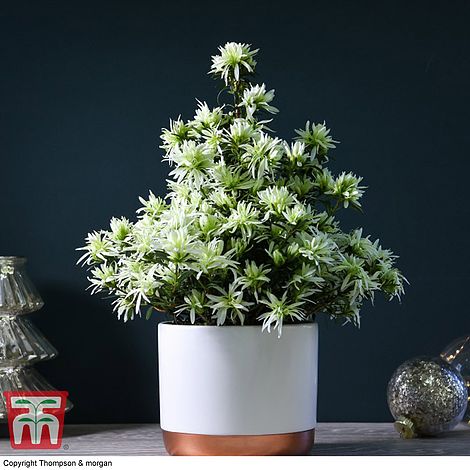 This charming Spider Azalea is full of festive cheer! Like a little Christmas tree with a white frosting of snow, the starry blooms gleam against its dark, evergreen foliage. Azalea Magisnow 'Winter Beauty' makes a delightful gift that will last for years. In winter its rounded buds burst open just in time for Christmas and last for several months. During summer it remains a shapely cone of glossy leaves that adds and exotic feel to the conservatory or even a patio table outdoors. This elegant plant will make an enchanting addition to your home!
RosAroma™ Scented Rose 'Bright Pink' – Gift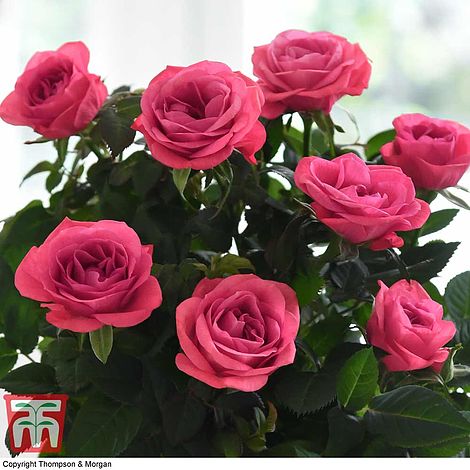 It's not often that you find a rose that's as perfect as these. Each bloom that bursts from the buds that cover the plant on delivery, is exquisitely-formed and heavily scented with that traditional, true rose fragrance. Whether you order one for yourself, or send one to a friend or relative, the impact of this wonderful rose is undeniable.
Hyacinth in Zinc Bowl – Gift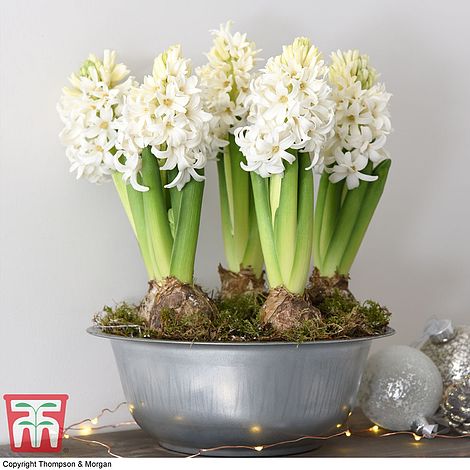 If you're looking for a bulb gift with clean, modern lines then look no further! These potted Hyacinths are presented in a simple, zinc bowl which shows off their starry blooms to perfection. With a simple, unfussy design, the bowl fits harmoniously into any modern interior, making a sleek focal point for a coffee table or bright windowsill. The perfumed Hyacinths can be enjoyed indoors and then planted out in the garden once the flowers have faded, where they will bloom again next year. Please note: Image is for illustration purposes only. Bulb colour may vary.
Amaryllis In Globe – Gift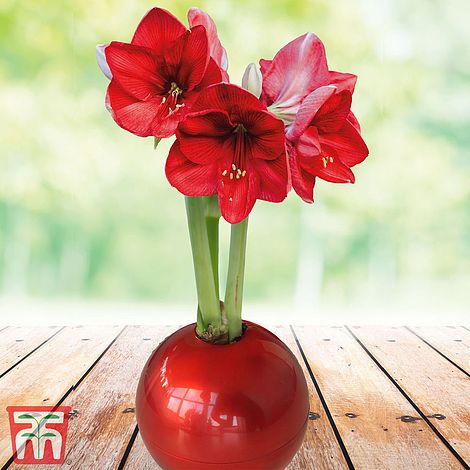 Amaryllis never fail to make a big impression! Prized for their enormous trumpet blooms, these spectacular indoor bulbs are a well-loved Christmas tradition. Their tall stems and glamorous blooms make a breath-taking display that will last for weeks. It's easy to see why they make such stunning gifts!
Presented in a glossy globe, each colossal bulb will already be in bud and raring to shoot upwards for a spectacular display. Perfect for creating a magnificent table centrepiece, or adding a luxuriant splash of colour to your windowsill on those dark winter days. Supplied in bud inside a globe (designs may vary).
Bonsai Japanese Elm – Gift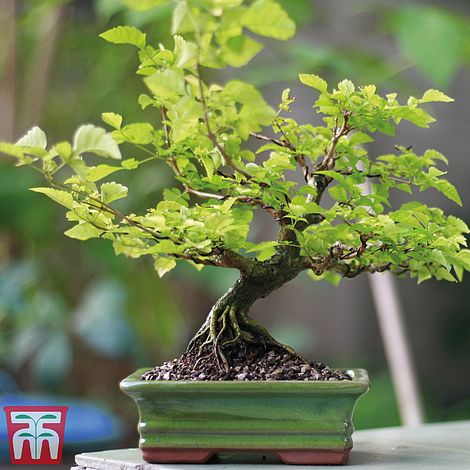 The bright green, pointed leaves have attractive toothed edges. This species is widely grown as a bonsai specimen, prized for its flaking bark and attractive arching crown. Bonsai trees make a fascinating feature for a cool, bright room or conservatory. During the summer months they can be enjoyed on the patio outdoors. Height and spread: 30cm (12in). Please note, supplied in ceramic pots (designs may vary).
To view these and other indoor plant gifts at Thompson & Morgan click here
All images and descriptions copyright Thompson & Morgan
If you have enjoyed reading our blog post then why not fill in the form provided to allow us to send you our blog posts and newsletters by email.