Nothing brings drama to the garden more than the statuesque Echiums.  Their towering summer blooms will attract enquiries from all who lay eyes upon them as to their identity and where they can get seeds. Perhaps not the best choice for my Scottish readers, but hardier than you may think, Echium Candicans will stand temperatures down to -5C, especially in well drained drier soils through the winter.  This remarkable plant is often seen on holidays to the South-West of the U.K. such as Cornwall as they enjoy this milder climate, as their common name of Pride of Madeira might suggest.
This plant is a biennial, and therefore dies after flowering, but if the flowers are left on the plant it will self-seed itself around forming a small colony ensuring that repeat purchases are usually unecessary unless winter conditions are extremely harsh.  The seedlings require a cold winter after germination in order to flower.
Plants will reach around 1m (3ft) in their first year, and when flowering in their second year the flower spikes can reach 1.5m (5ft) in late summer.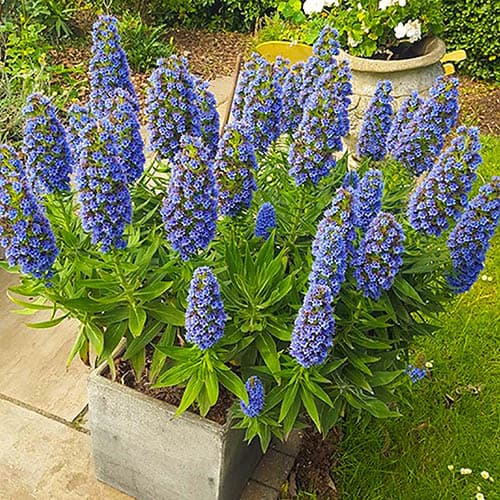 Leaves can be damaged in winter by icy winds and frosts and will therefore benefit from the protection of some horticultural fleece.
Echiums can be grown in large pots.  Add sand or grit to the compost to ensure sharp drainage.  Always water well in the months of May through to August at the time when growth is rapid.  Importantly, our vital pollinating insects will find Echium Candicans an absolute Mecca!
Ensure plants are situated in full sun.  They do not need a very fertile soil, however if they are shy to flower you may need to apply a high potash feed.  Potted plants may require repotting if flower spikes fail to appear.  The tall flower spikes may need support, paricularly in more exposed areas.
The effort to cultivate this plant will be well rewarded with a stunning display and ultimate neighbour envy!
*Touching foliage may cause skin irritation so wear gloves when handling*
All images copyright YouGarden
If you have enjoyed reading our blog post then why not fill in the form provided to allow us to send you our blog posts and newsletters by email. For all major gardening products, visit our shop from the menu above.