For many years the blooms of Campsis have adorned our late summer gardens with their exotic flowers that look as if they might be more accustomed to a mediterranean setting, and yet they are quite hardy in the U.K.  They are covered in fiery flowers from July through to at least October and are quite a sight to behold.
The new trumpet vine series has only added to this beauty and made this plant more suitable to our often smaller plots.  Breeders have achieved this by making the plant more compact, with an eventual height of only 2m (6.5ft).  They are also hardier and easy to grow, being suited to container growing as well as borders, and are even more floriferous.
The bright, almost tropical, citrus coloured trumpets are produced when many other plants in the garden are beginning to look a little tired, which is part of the value of these delightful plants.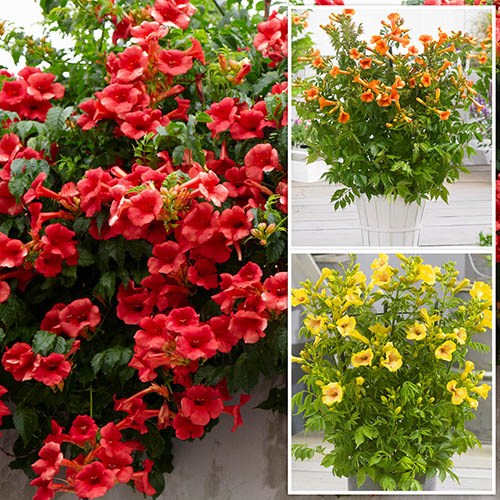 Although we call them vines, they are actually not self-clinging, and will require the support of wires or trellis on a fence, wall or covering a garden building.  They require a site with well drained soil and plenty of sunshine throughout the day. Given this, they will reward you with a magnificent display for many years to come.
This new breeding also provides new colours.  The three varieties available so far are:-
'Orange Trumpet' – mandarin orange.
'Yellow Trumpet' – golden yellow.
'Red Trumpet' – fiery scarlet red
And finally they provide a service so close to many of the hearts of young gardeners, in that they are a magnet for late summer and autumn bees, a species on which humanity relies.
To view these plants at YouGarden click here
Mark Snelling
All images copyright YouGarden
If you have enjoyed reading our blog post then why not fill in the form provided to allow us to send you our blog posts and newsletters by email. For all major gardening products, visit our shop from the menu above.