What an absolute beauty this apple is! There are a small selection of apples to buy in the supermarkets, but they are often the same old mass produced varieties that can be tasteless.  This variety is really something special.  Also, when you have grown it in your own garden you know how the tree has been treated and therefore what you are putting into your mouth when you eat the delicious fruits.
This variety will grow with a columnar habit, so you will not need a vastly wide area in which to plant it.  This is a bonus as often us gardeners wish to squeeze as many plants as possible into our small plots.  Also it is grown on an M26 rootstock, which may sound complicated, but simply means it is dwarf and will reach a mature height of 2.5-3m (8-10′). It can even be grown in a large patio container for some years.
To top it all, this variety is self fertile and therefore will not require another tree to pollinate it.
The red fleshed, purple fruits have heart shaped white centres as you can see from the picture.  They are delicious to eat, especially when you have the achievement of nurturing them in your own garden.  You would be very hard pushed to buy the fruit in any of the supermarkets, and you will be the talk of the neighbourhood when they see the stunning fruits, which at first sight appear to be large plums.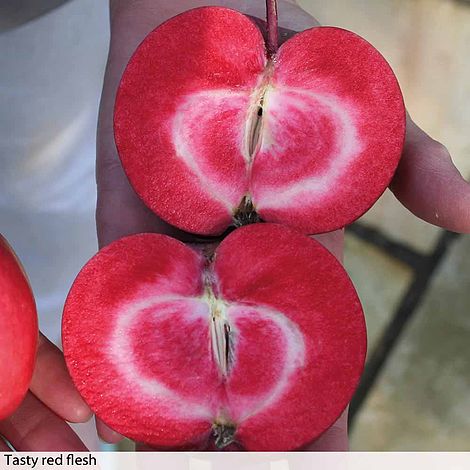 Apple Purple Haze is not only scrumptious to eat, it also has beautiful ornamental properties with it's very dark pink spring blossom which is a delight to behold when the garden is just bursting back into life.
I cannot recommend this variety highly enough.  It is mouthwatering just to look at!
To view this tree at Thompson & Morgan click here
Mark Snelling
All images copyright Thompson & Morgan
If you have enjoyed reading our blog post then why not fill in the form provided to allow us to send you our blog posts and newsletters by email. For all major gardening products, visit our shop from the menu above.