Many of us will be familiar with Helleborus Niger, the Christmas Rose.  It's English name however is a bit of a myth as it is rarely in flower before late winter in our gardens. Helleborus Niger Christmas Carol however can be in flower from Christmas through to mid spring. This evergreen, hardy perennial will provide a wonderful display in our gardens year after year.
It's white blooms shine in the dark winter days with their prominent yellow stamens. Blooms often mature to a pinkish colour. It is ideal for a shady border, pot or window box where it will flower at a time when so much of the garden is bare.  If desired the newly purchased plants can be brought indoors prior to Christmas and be in flower for the festive period as a wonderful decoration for a slightly shaded area of  our homes, before planting out in our gardens.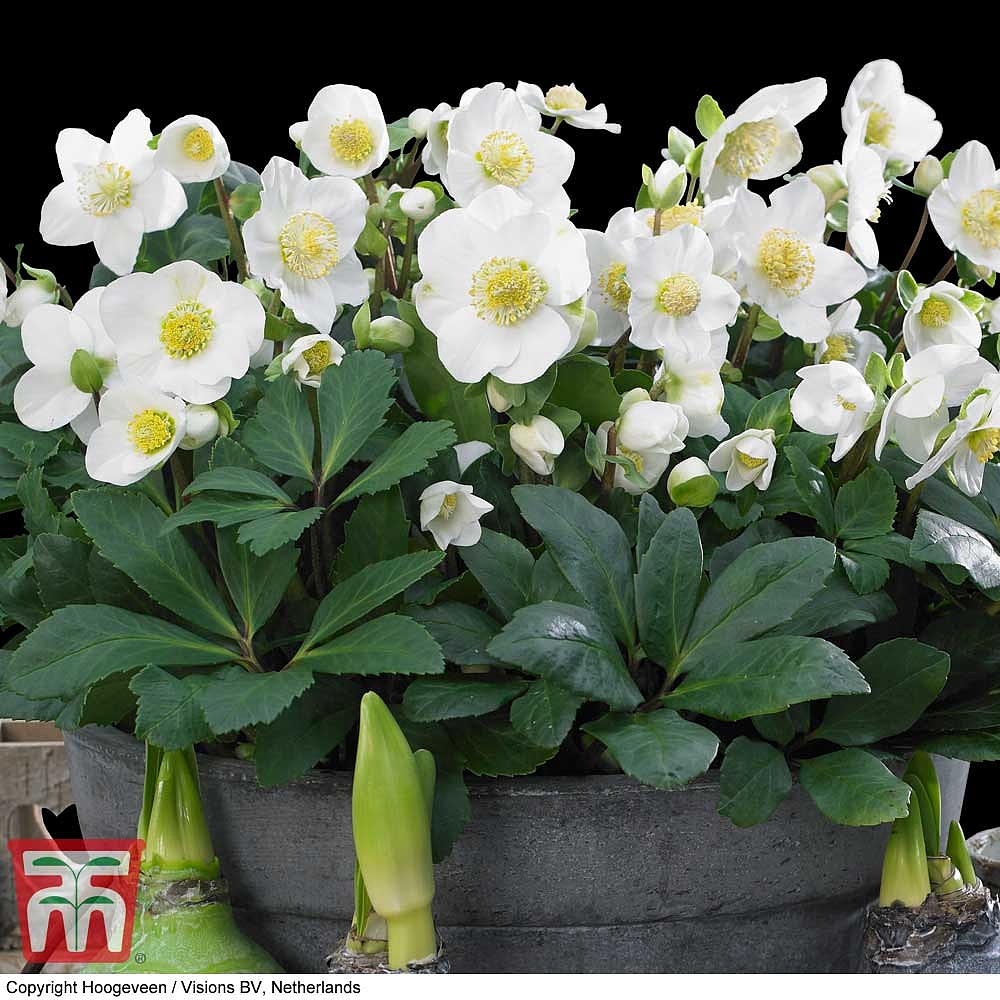 The Royal Horticultural Society recommend this plant for attracting early pollinating insects into our gardens. An attribute that has become so desireable in recent years. It is also very suitable for our smaller plots as it only reaches an approximate height of 30cm (12in) and spread of 45cm (18in).
This plant prefers a neutral or alkaline soil in dappled shade.  It will hate waterlogged soil in winter or very dry soil in summer, so if this describes your garden, be sure to add organic matter to improve the conditions before planting.  New plants can be propagated by division after flowering, but they resent disturbance and may take a while to re-establish.
There are few other plants we can rely on to provide these lovely blooms at a time of year when the days are short and the weather is unfavourable, so we need to grasp them with both hands and admire their rare beauty.
To view Helleborus Niger Christmas Carol at Thompson & Morgan click here
If you have enjoyed reading our blog post then why not fill in the form provided to allow us to send you our blog posts and newsletters by email.
Mark Snelling
Caution: Hellebore sap may irritate the skin and eyes, harmful if eaten.
All images copyright Thompson & Morgan