It has long been said that "we eat with our eyes", and how true. A visually appealing plate of food is far more appetising than one that is not. Also different colours of food contain different vitamins and minerals. For instance green fruit and vegetables contain vitamin C, iron and potassium, red ones contain lycopene and quercetin, orange and yellow ones contain beta-carotene and flavonoids, blue and purple ones contain lutein and ellagic acid, and this is only scratching the surface! It therefore follows that a rainbow of fruit and veg on our plates will provide a more balanced diet.
The supermarkets are slowly catching on to this, but they will never beat the sense of pride and achievement that we can gain from growing our own fruit and vegetables in our gardens or on our allotments.  Here I have chosen some of the rainbow coloured varieties we can grow ourselves from seed, all from the Thompson & Morgan catalogue.
Carrot 'Rainbow' F1 Hybrid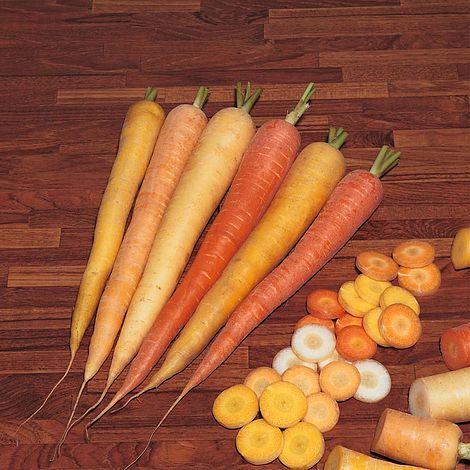 This colourful mix brings together F1 Hybrids in some of the best shades resulting from unique breeding over many years. Carrot 'Rainbow' produces a diverse range of skin and core colours that are all packed with vitamins. Perfect for adding a splash of colour to cooked dishes and salads. Height: 30cm (12″). Spread: 15cm (6″).
Radish 'Rainbow Mixed'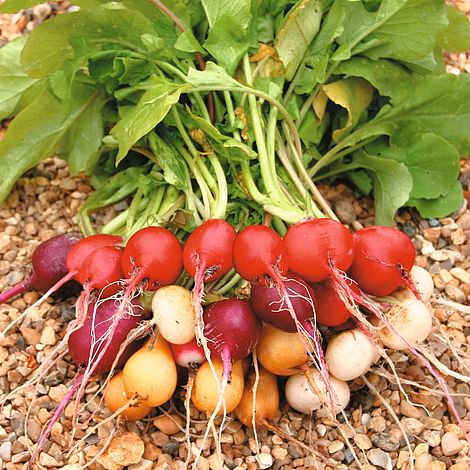 Brighten up your salad bowl with this visually stunning selection of coloured-skinned radishes. Vibrant roots of purple, red, white and gold contain crisp, white flesh with a refreshing, tangy flavour. Radish 'Rainbow Mixed' is quick growing and can be harvested in as little as 28 days from sowing – perfect for growing successional crops throughout summer. Height: 15cm (6″). Spread: 10cm (4″).
Beetroot 'Rainbow Beet' (Globe)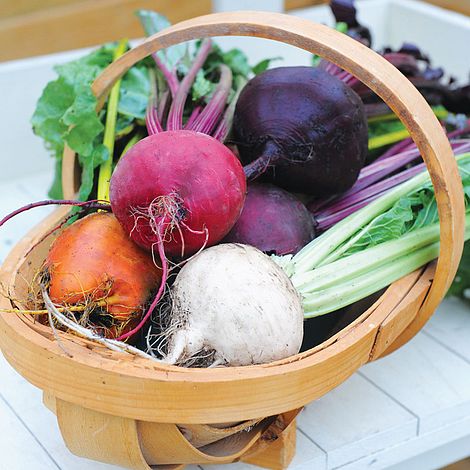 A visually stunning mixture of five beetroot varieties with superb contrasting outer skins, flesh, stems and leaves! Each variety has a deliciously sweet flavour and they can be enjoyed as mature roots or as tasty 'baby beets'. Delicious whether they are eaten hot or cold, cooked or pickled, Beetroot 'Rainbow Beet' can even be sliced raw into salads for a colourful crunch. Try steaming the tender stems and leaves as an alternative to spinach or chard. Height: 30cm (12in). Spread: 15cm (6in).
Swiss Chard 'Bright Lights'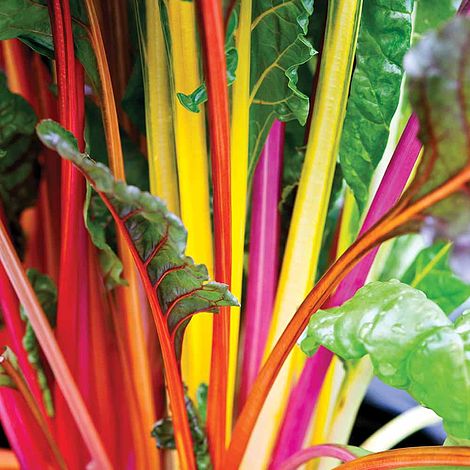 This exciting RHS AGM Swiss Chard, produces a rainbow of coloured stems that are crowned with large leaves of green or bronze. The flavour is deliciously mild and packed with nutritional content. Swiss Chard 'Bright Lights' can be harvested from mid-summer to late autumn, and if soils are not excessively wet overwinter, it will re-emerge to give an unbelievably early spring crop! Guaranteed to brighten the vegetable patch, or why not grow this colourful swiss chard in ornamental borders or in a patio container. Height: 50cm (20″). Spread: 40cm (16″).
Tomato 'Rainbow Blend' F1 Hybrid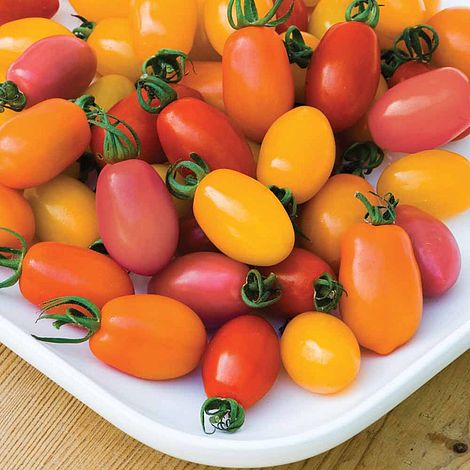 Juicy, sweet and colourful! This stunning mix of baby plum tomatoes will add interest and taste to your salads, sauces and a whole host of other tomato dishes. The olive shaped fruits each weigh 16-20g (½ – ¾oz) on average, with a delicious flavour and a high level of sweetness.
To view all fruit and vegetable seeds at Thompson & Morgan click here
To view the Rainbow Vegetable Growing Kit at Thompson & Morgan click here
To view the Rainbow Salad Growing Kit at Thompson & Morgan click here
Mark Snelling
Images copyright Thompson & Morgan
If you have enjoyed reading our blog post then why not fill in the form provided to allow us to send you our blog posts and newsletters by email