Succulents have become more and more in vogue in recent years.  Even the winner of the RHS Chelsea Plant of the year was a succulent in 2022.  The newly developed Mangaves I wish to highlight here are at the height of fashion in the garden. Particularly with the rise in popularity of Xeric landscaping. For those of you who are unaware, this is the process of gardening with little or no need for supplementary watering.
These Mangaves are the result of cross breeding between two succulents called Manfreda and Agave, resulting in these architectural plants that make interesting and low maintenance specimens for the garden. Mangaves have a better growth rate and interesting colours, foliage patterns and leaf shapes. They are perfect to give a tropical, exotic effect to our gardens.
Mangaves are compact in growth, with an eventual height and width of 25cm x 55cm (10 x 22in). They are perfect for pots in a sunny spot in the garden, perhaps on a patio or on decking or a balcony, but then moved into a cool, bright room or conservatory in the winter months to ensure survival.  They require only occasional watering, to mimic arid, desert conditions. Watering will only be necessary perhaps fortnightly in summer and monthly in winter.  Perfect for those of you who cannot be home for a couple of weeks. When repotting, use a gritty, well drained compost to avoid waterlogging. The plants will become dormant when temperatures fall below 65 degrees Fahrenheit (18 degrees Celcius).
Mangave 'Mission to Mars'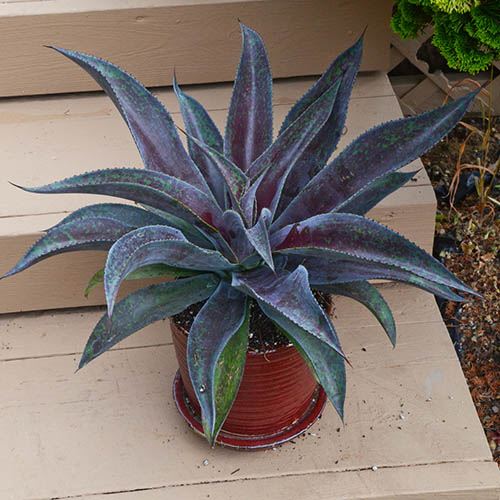 This variety has striking foliage with intense red coloration, hence the name. The thick green leaves are heavily speckled with burgundy red and are gently arched with upwardly curled margins. The spines are cinnamon-coloured.
Mangave 'Pineapple Express'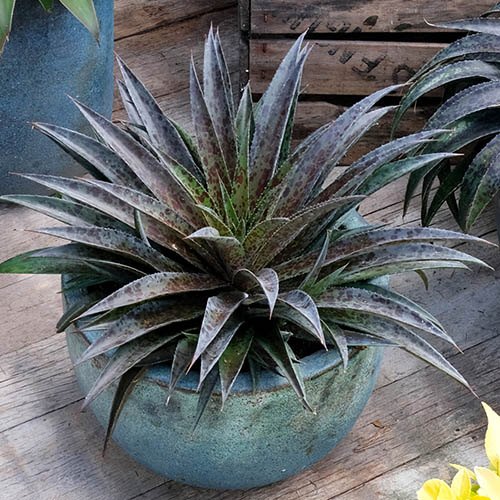 Pineapple Express boasts beautifully spotted foliage.  The markings on the light green leaves are heightened when baking in the sun in the summer months.
Mark Snelling
All images copyright YouGarden
Some care should be taken around spiky leaves
If you have enjoyed reading our blog post then why not fill in the form provided to allow us to send you our blog posts and newsletters by email. For all major gardening products, visit our shop from the menu above.