There are a great many varieties of Alstroemeria, some short, some tall, some bright and some in delicate pastel shades. The brand new Alstroemeria 'Valley' Collection (Summer Paradise Series) however have an attribute seldom held by other varieties.  That is that they are exceptionally winter hardy.  Many other Alstroemeria series have had the gorgeous exotic blooms posessed by this lovely new breeding, but have suffered, and even met their demise due to winter wet and low temperatures. Not so with these new plants.
That however is not the only desirable property of this cutting edge breeding. Below are some more points which make them such a valuable addition to our gardens.
Make a great addition to the cottage garden and herbaceous border, for example planted beneath roses.
Make a lovely perennial cut flower, their blooms having a long vase life.
A very long flowering period of abundant blooms from June to the first frosts.
Their height and spread of up to 45cm (18in) make them eminently suitable for our patio containers, and no need for staking.
Thrive both in sun or semi shade.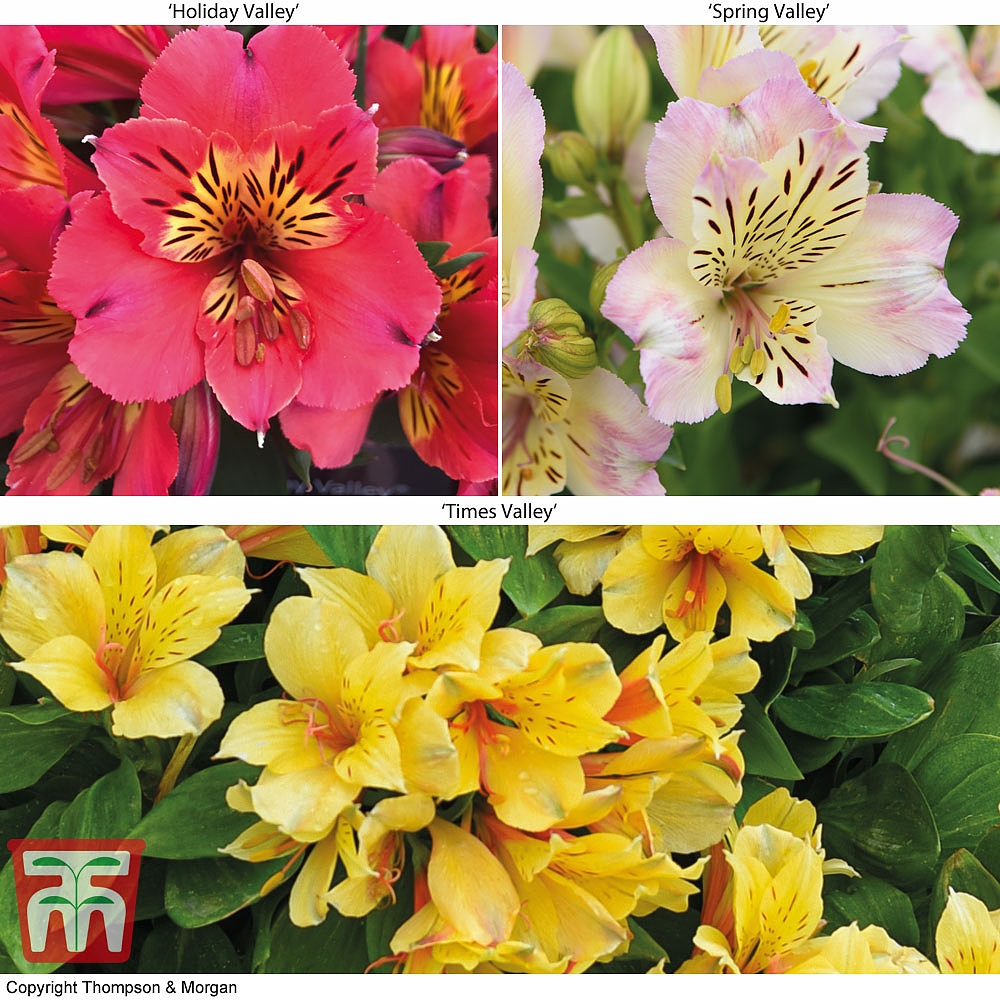 The young plants offered here will need to be grown on  in small pots in frost free conditions until they are sizable enough to fend for themselves in borders or patio containers outdoors. When planted out it is essential to water and feed in the growing season, especially if grown in containers.  An autumn mulch will aid their hardiness. Deadhead the plants by pulling the stems from the base rather than snipping off blooms at the top.  The wounding of the rhizome is said to encourage successive flowering.
Alstroemeria 'Valley Collection' comprises:
Alstroemeria 'Holiday Valley' – Exotic orange blooms are produced all summer long.
To view this variety singularly at Thompson & Morgan click here
---
Alstroemeria 'Spring Valley' – Bring a bright splash of sunshine gold to your patio and borders each summer.
To view this variety singularly at Thompson & Morgan click here
---
Alstroemeria 'Times Valley' – An abundance of pale blooms decorated with deep burgundy markings.
To view this variety singularly at Thompson & Morgan click here
---
To view all three varieties as a collection click here
Mark Snelling
Caution: irritant to skin and eyes.

All images copyright Thompson & Morgan
If you have enjoyed reading our blog post then why not fill in the form provided to allow us to send you our blog posts and newsletters by email.