Japanese Anemones are highly valued in the garden for the fact that they provide late summer colour when most of our perennials are past their best.  Once again Thompson & Morgan have come up trumps and introduced to us this stunning and unusual, double flowered variety which looks set to take the gardening world by storm.
Another great attraction of the Japanese Anemones is that they are amenable to various situations in our gardens.  As well as thriving in a sunny spot, they will also be happy with a fair degree of shade, making these perennials easy to place. With a height of 60cm (24″) and a spread of 45cm (18″) these delightful plants will be just as happy in late summer containers as they will be in our borders.
The showy double blooms are white with tinges of pale violet, which it inherited from it's parent plant Anemone Dreaming Swan. The single flowered Japanese Anemones have long been a favourite of mine, but this new breeding really has the wow factor that will be the talk of the town, and will keep the colour going right through to the first frosts.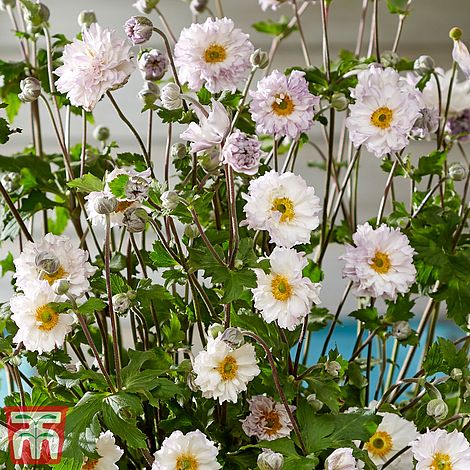 Early summer flowering perennials are beautiful and essential, but if we are to avoid an abrupt end to the beauty of our gardens in late summer and autumn, we must plan ahead and never overlook these valuable additions to our cherished plots.
Harden off young plants gradually to acclimatise them to outdoor conditions, then they will be hard as nails for many years to come.  A freely draining soil, particularly in winter, is advisable so add compost or grit when planting if gardening on heavy soils. Then Anemone Frilly Knickers will reward you with a multitude of gorgeous blooms at a time when they are often scarce.
To view Anemone Frilly Knickers at Thompson & Morgan click here
Mark Snelling
Images copyright Thompson & Morgan
If you have enjoyed reading our blog post then why not fill in the form provided to allow us to send you our blog posts and newsletters by email.