Back in 2018 I was writing about the wonderful Hydrangea Runaway Bride, then newly introduced by Thompson & Morgan, which won the prestigious accolade of  RHS  Chelsea Flower Show Plant Of The Year.  Three years later Thompson & Morgan have pulled it out the bag once more with a pink version of this plant, Hydrangea French Bolero, which shares the best elements of Runaway Bride in a new colour.
Part of the beauty of these plants is that they bloom along the length of each stem, rather than just at the top as with most hydrangeas. This means that it can produce up to six times the amount of  flowers than the traditional Hydrangea. Breeders have managed to cross Hydrangea scandens and Hydrangea macrophylla to produce this outstanding plant.
Like Hydrangea macrophylla the large blooms will change colour depending on the acidity of the soil. On alkaline soils the flowers will be pink.  On acidic soils the plants produce blue or purple blooms.
With a height and spread of 100cm (39″), Hydrangea French Bolero is not only suitable for the border, it can also be happily grown in a large container.  If it is pink flowers you require, use a soil based compost in the container such as John Innes No.3.  If you prefer the blue/purple blooms use an ericaceous compost to fill the container.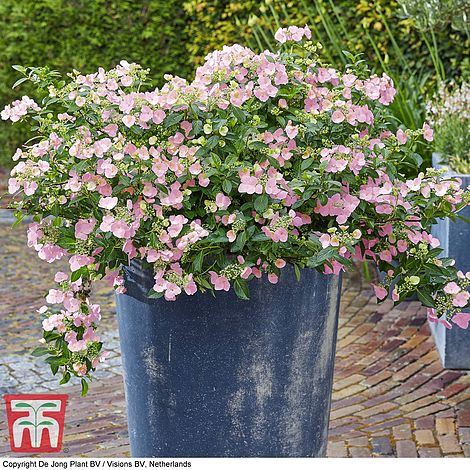 Find a shady or semi-shady spot for this plant. Hydrangea French Bolero is not quite as thirsty as many Hydrangeas, so will require watering but not waterlogging.  It is however a hungry plant that will require regular feeding in the growing season.
Leaving the faded flowers on the plant through the winter until spring will help to protect plants from frost.  This plant, unlike many Hydrangeas, flowers on the new growth, so it is the old stems which should be pruned.
If you have not come across this new breeding, or it's predecessor Runaway Bride, you will be astonished by the sheer flower power throughout the summer.  It is an absolute delight!
To view buying options at Thompson & Morgan click here
Caution: All parts of hydrangea will upset the stomach if eaten. The foliage may also aggravate skin allergies.
Mark Snelling
Images copyright Thompson & Morgan
If you have enjoyed reading our blog post then why not fill in the form provided to allow us to send you our blog posts and newsletters by email.