I recommend you be one of the first to grow this unique Japanese breeding breakthrough. Many of us are familiar with the stunning spring-flowering Camellias with their stunning, exotic blooms, whether we've seen them in the gardens of stately homes or grow them in our own gardens. This however is something even more special.
This brand new breeding will not only bloom in spring, it will flower continuously for five months of the year from May to October, making it extremely valuable for year-round interest in our gardens.  It is a hardy, evergreen shrub so, even during the short time it is not flowering, it provides wonderful structure and background for other plants.
Camellia '1001 Summer Nights' Jasmine is compact enough to grow in containers as well as the middle of the border with a height and spread of  250cm (98″). It's ruffled, rosette blooms are a great asset to all gardens, from the grandest to the postage stamp sized plot.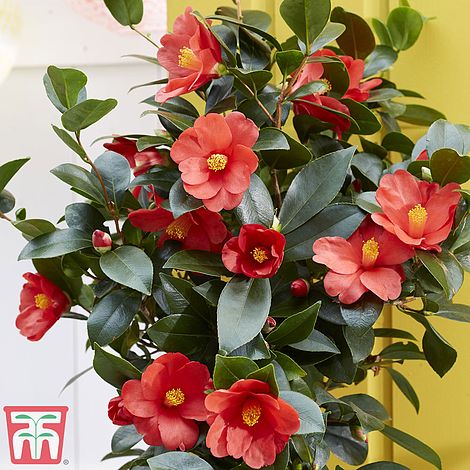 Like other Camellias, this one prefers an acid soil. If you live in an area where Rhododendrons, Azaleas and Camellias are abundant you will have an acid soil (if not sure buy a cheap soil testing kit). This means you will have the choice of growing it in the ground or in a container.  If you live in an area with alkaline soil you will be better off growing the plant in a container filled with John Innes Ericaceous Compost.  If you cannot get hold of this you can mix John Innes No.3 with an ericaceous compost. Those of you with an alkaline soil will probably also have hard, chalky water which can reduce acidity over time, so try to water with rain water.
Place your plant in dappled shade with shelter from cold winter winds. Also avoid strong morning sunlight that can cause browning of the flowers or bud drop. Pruning is only necessary to maintain the shape.
To view Camellia '1001 Summer Nights' Jasmine at Thompson & Morgan
Mark Snelling
Images copyright Thompson & Morgan
If you have enjoyed reading our blog post then why not fill in the form provided to allow us to send you our blog posts and newsletters by email.