Dahlias are so popular in our summer gardens. This wonderful new variety really caught my eye as soon as I saw it.  Dahlia Tropical Breeze is not one of the tall varieties that need staking, but rather a bedding variety that is ideal for our containers and front of border. Rather than having to wait until late summer to see it's exotically coloured, double blooms, this variety will start flowering profusely with large blooms from May, and carry on right through until October.
Plants are neat, bushy and well branched and resistant to mildew.  With a height of 45cm (18in) and a spread of 30cm (12in) it is also perfect for the cutting garden, providing a summer long supply of cut flowers for the vase.
Young plants should be potted up on arrival and grown on in a frost free greenhouse, conservatory or on the windowsill until large enough to withstand outdoor conditions when risk of frosts has passed. Pinch out young plants to increase bushiness. Harden off plants before placing outdoors by gradually acclimatising plants  to outdoor conditions over seven to ten days.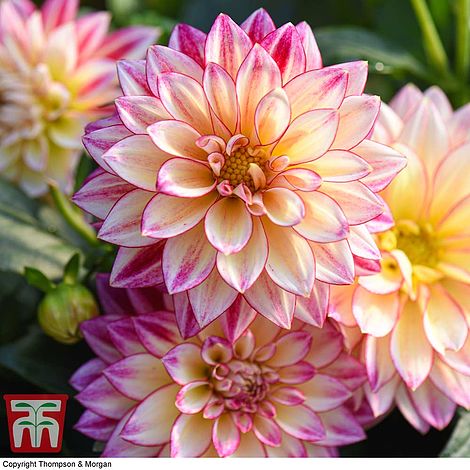 These gorgeous Dahlias prefer a sunny spot.  Water and feed throughout the growing season. Deadhead to prolong the flowering season. To find out more about deadheading plants, read my article on deadheading. If you wish to regrow the plants again next year it is possible to lift the tubers that will be formed and store them throughout winter for replanting the following spring.
To view Dahlia Tropical Breeze at Thompson & Morgan click here
If you need some compost for potting up your young plants, consider using the amazing Westland New Horizon Peat-free Compost.  To read more about this environmentally friendly and top quality compost click here.
Mark Snelling
Image copyright Thompson & Morgan
If you have enjoyed reading our blog post then why not fill in the form provided to allow us to send you our blog posts and newsletters by email.