Gardeners have been using peat in the garden for decades with great results, so why should we stop now? Well, there are some absolutely vital reasons for us to be doing so.  Firstly peat is not a renewable resource as it forms at such a slow rate. The peat bogs are also a very important habitat for wildlife. But perhaps most importantly the peat bogs are absorbing vast amounts of the carbon that we produce, and as I am sure you have all heard, this is vital to the survival of our planet.
Some of us older gardeners may simply pass this off as something that will not affect us in our lifetime, and maybe so, but we have to spare a thought for our children and grandchildren's future. But enough of the preaching.  Below I would like to point out some reasons why Westland New Horizon Peat- Free Composts are far from being an inferior subtitute for peat based composts, and how this ground breaking formulation, after 18 years of research and a 35 million pound investment, may even provide superior results to cheap peat based alternatives:-
100% sustainable, natural and peat-free compost.
A special blend that will suit many types of plants including seeds, containers, fruit and vegetables.
Contains a  base fertiliser that feeds plants for up to six weeks.
 Does not contain any green waste, but instead is made to Westland's BIO3 formula which includes West+ to create structure, Coir+ to store and release nutrients and moisture, and Biofibre for fast and effective transfer of nutrients.
Has an open structure and micro-nutrients for total plant health.
Rich in goodness to feed longer and more immediately.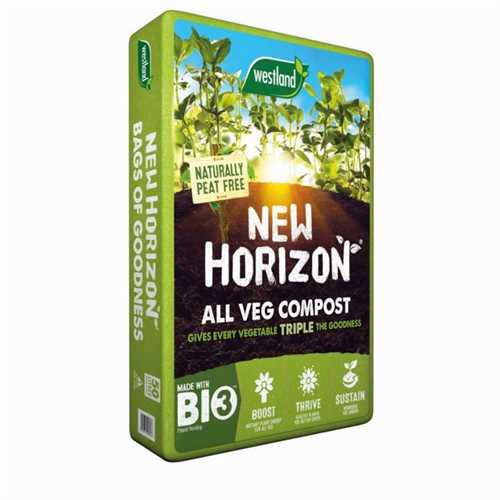 Westland have also formulated a similar peat-free compost for use with vegetables in our gardens and allotments. Far from being inferior, these composts just need to be used slightly differently to the way we are used to.  Most importantly, even if they look a little dry on the surface, it is probable that moisture has been retained below the surface, and so less watering is required. This can only be a good thing right? Why would we not want to water our plants less? Follow the links below to have these wonderful composts delivered to your door.
To view New Horizon Peat-free Compost at Greenfingers.com click here
To view New Horizon Peat-free Vegetable Compost at Greenfingers.com click here
If you have enjoyed reading our blog post then why not fill in the form provided to allow us to send you our blog posts and newsletters by email.
Mark Snelling
All images copyright Greenfingers.com