I just love to be able to introduce new plants to you like this new French Lavender from the Butterfly Garden series.  French Lavenders have a longer flowering period compared to our English varieties.  They are a little more temperamental in that they love to bake in hot sun and well drained conditions, not cold wet conditions, but if you can provide a sunny dry spot they will reward you with a long season of flowers for years to come.
Below are some of the best attributes of this lovely new variety:-
The delightful tufted blooms are a beautiful combination of purple and white.  Each flower is different.
The flowers are perfect for pollinators, attracting bees, butterflies and a host of other beneficial insects.
The plants are suited to border or container growing and even make a fine low hedge.
A neat and compact habit, but vigorous enough to make a good show in it's first year.  Height and spread: 60cm (24″).
Exudes an amazing aroma, so worth planting near a door or window to make full use of it.
A perfect cut flower for posies or drying, if you can bear to take them from your garden display.
The petals are edible in salads for instance.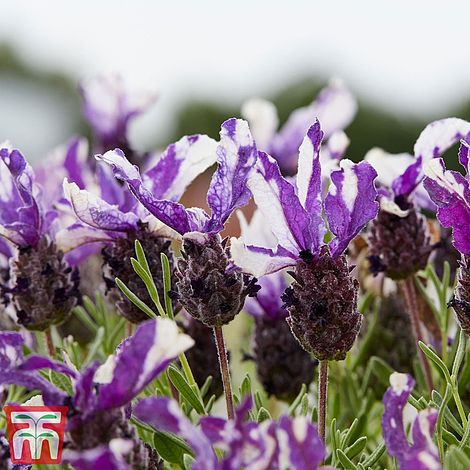 Lavenders are easy to care for in the correct position.  Just trim them back after flowering to keep them bushy and compact.  Don't however cut back into old wood as they often do not send out new shoots.
To view this plant at Thompson & Morgan click here
Mark Snelling
All images copyright Thompson & Morgan
If you have enjoyed reading our blog post then why not fill in the form provided to allow us to send you our blog posts and newsletters by email. For all major gardening products, visit our shop from the menu above.