It's never too early to be planning your garden displays for next spring. Although Tulips should not be planted until the soil is cold in the autumn, some of the bulbs will be delivered in August, and you need to get your orders in before the cream of the crop has all gone.  This is why I have been busy choosing some of my favourites from the new varieties to recommend to you.
Tulip Strawberry Cream
"Finding and offering new tulip varieties is always exciting, but our beautiful new double Tulip 'Strawberry Cream' is absolutely spectacular. The huge flowers with their layers of petals are unique. This tulip is a real rarity, which is why we can only offer a limited number of bulbs for sale. Be the first to plant this tulip in the garden; you will be amazed for sure! Tulip Strawberry Cream is also very popular with cut flower growers. Quick fact: This flower was the biggest hit ever at the Flower Auction in the Netherlands!"
Tulip Colour Fusion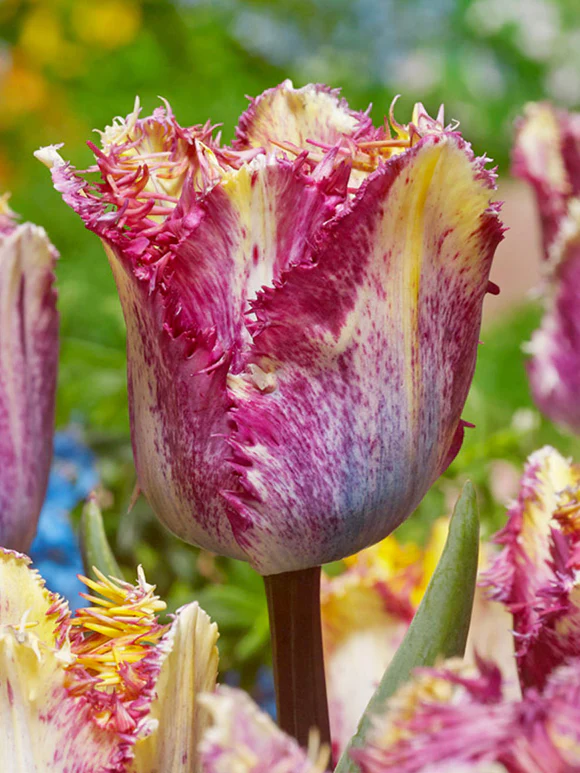 "Tulip Colour Fusion is a unique and vibrant tulip with colors that will add life to any garden or space. It is a mix of both classic and modern colours that come together to create a beautiful spectrum of blooms. The colours range from purples, pinks, and reds to oranges, yellows, and whites, making for a truly eye-catching display. The colours are designed to complement each other, creating a stunning contrast that will draw attention wherever it's planted. This tulip is perfect for adding a bit of colour and life to any garden, balcony, or backyard. With its unique mix of colours and its beautiful blooms, Tulip Colour Fusion is sure to make any garden or space stand out."
Tulip Crunchy Cummins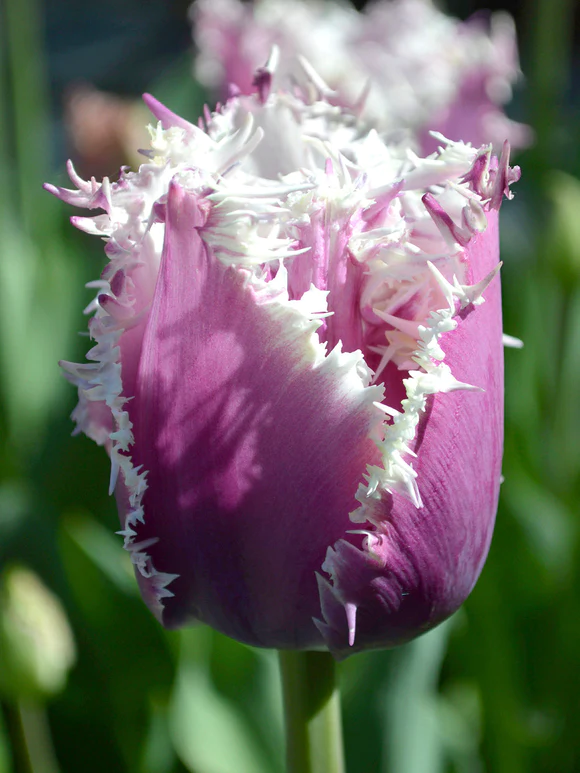 "This particularly pretty tulip has won multiple awards and is highly respected within the Dutch market – and it's easy to see why. Boasting vibrant lavender frilled blooms with contrasting white petal edges, Tulip Crunchy Cummings is a sensational fringed tulip. Plant the bulbs en masse for a striking display in Spring, or use as a cut flower for a show stopping floral arrangement."
Tulip Burning Flame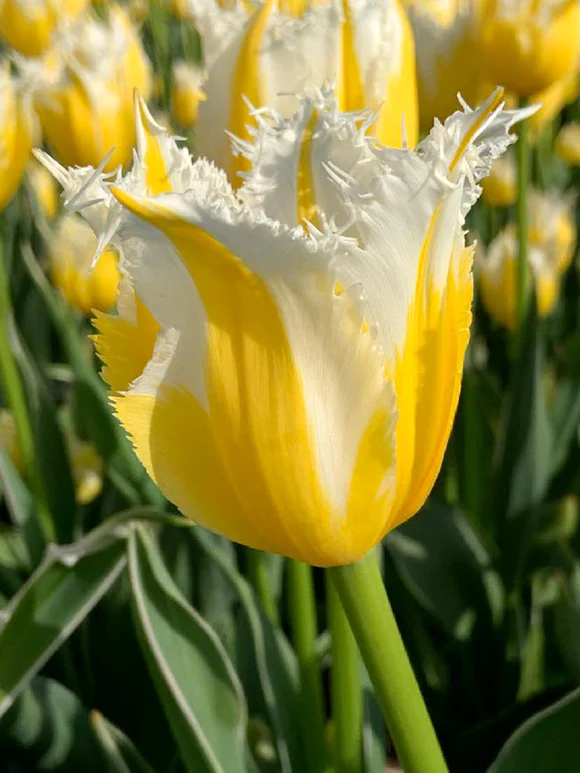 "Tulip Burning Flame is a new tulip variety developed by one of the best flower bulb growers in the Netherlands. The flower is bright white with dark yellow flames. The flower is known for its intense colors and striking appearance."
Tulip Philly Belle®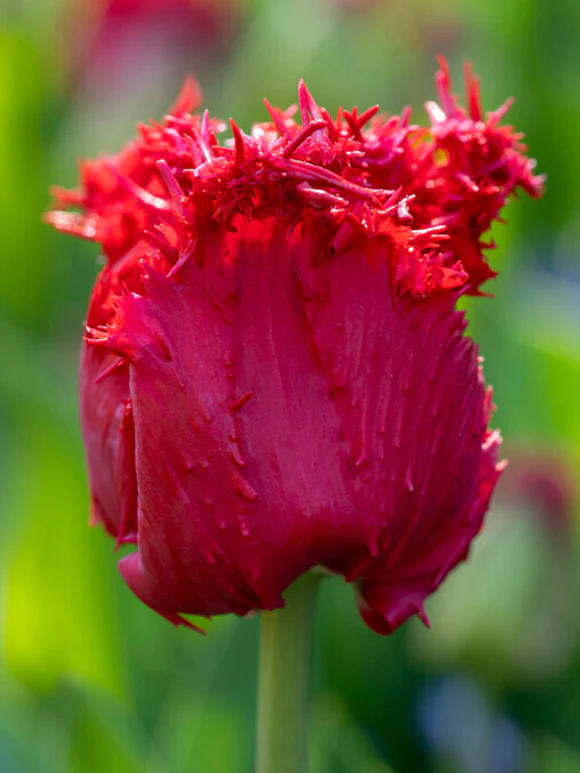 "The gorgeous crimson fringed Tulip Philly Belle is the result of a 19-year breeding process, and was gifted to the city of Philadelphia by the Dutch embassy as a mark of appreciation for the Philadelphia Flower Show. This mid-season flowering beauty is fantastic on its own or when planted alongside contrasting colours. Tulip Philly Belle also makes a superb cut flower."
Tulip Sugar Crystal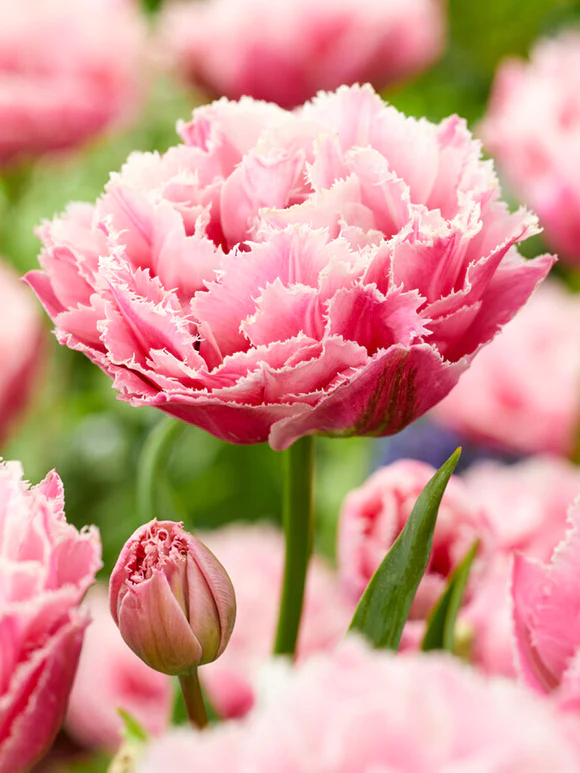 "A brand-new addition to our catalogue and available exclusively from DutchGrown, the gorgeous Tulip 'Sugar Crystal' is a frothy confection of layer upon layer of frilled and feathered petals. Boasting enormous full blooms in the prettiest shade of baby pink with a slight tinge of silver, Tulip 'Sugar Crystal' is a highly distinctive double tulip that will create a beautiful statement wherever it is planted."
Mark Snelling
All images and descriptions copyright Dutch Grown
If you have enjoyed reading our blog post then why not fill in the form provided to allow us to send you our blog posts and newsletters by email. For all major gardening products, visit our shop from the menu above.