I wanted to draw your attention to this superb new breeding in tomatoes, which I think is perfect for your gardens and allotments for the following reasons:-
Excellent resistance to common tomato diseases including blight.
This delicious cherry tomato has the old fashioned tomato flavour that many of us yearn for, and is not always available from modern breeding. It is described as rich, sweet and tangy.
These astonishing plants can produce up to twelve orangey-red, cherry tomatoes weighing around fifteen grams per fruit on each truss.
Perfect for salads and lunchboxes, and I love to eat them as a healthy alternative to sweets.
A cordon variety with a height of 200cm (79″) and a spread of 50cm (20″) that is excellent in containers in greenhouses or conservatories, but is also suited to a sunny spot outside.
An indeterminate or vining variety that continues to extend in length throughout the growing season, unlike determinate varieties that get to their mature height and produce all the fruit at once.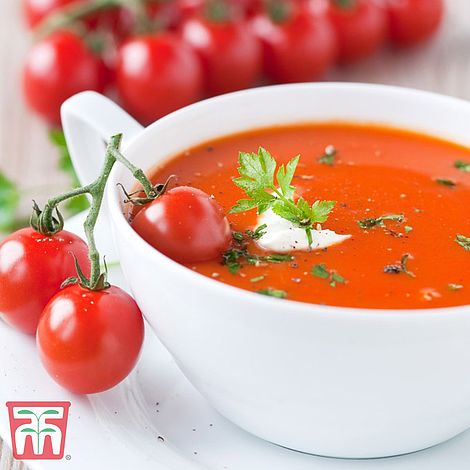 To view seeds at Thompson & Morgan click here
To view plug plants at Thompson & Morgan click here
Mark Snelling
All images copyright Thompson & Morgan
If you have enjoyed reading our blog post then why not fill in the form provided to allow us to send you our blog posts and newsletters by email. For all major gardening products, visit our shop from the menu above.