Most of us will have seen gorgeous wisterias with their stunning blooms draped across the front of houses or perhaps on a pergola.  But what is so special about Wisteria Amethyst Falls that makes it stand out from the crowd.  If I have sparked your curiosity then read on:-
Amethyst Falls is a very compact variety of Wisteria that can even be grown in a large container and is ideal for the smaller garden where there is not room for a gigantic vine.  This American breeding will remain compact in it's early years, and will only have an eventual height of 3.5-4.5m (12-15ft) and a spread of around 1.8m (6ft).  It can however be pruned to smaller dimensions and still produce masses of flowers.
Most Wisterias can take anything up to five years before you see your first blooms.  This is not so with Wisteria Amethyst Falls which will reliably flower in it's first year after planting.  This if very important for us impatient gardeners.
The delightful blooms throughout May will fill your garden with a delicious scent that will be the envy of all who get near it.
In the right summer conditions, this variety will often produce a second flush of blooms.
Perfect for pergolas, arches walls and can even be trained into a small tree with the correct pruning.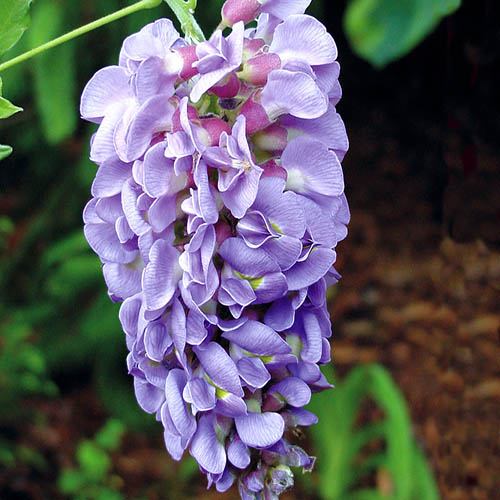 Amethyst Falls is the very best breeding and will grace your garden perennially with a picture book scene for decades to come.
To view this plant at YouGarden click here
Mark Snelling
All images copyright 
If you have enjoyed reading our blog post then why not fill in the form provided to allow us to send you our blog posts and newsletters by email. For all major gardening products, visit our shop from the menu above.