Call me lazy, but I just love products that make our gardening easier so we can spend more of our time simply enjoying our gardens, whether they be of vast acreage or the size of a postage stamp. Here I would like to show you the Vegtrug raised planter range that can do just that.
Vegtrug have produced a fantastic range of raised planters with the following features and benefits:-
Produced using sustainably sourced FSC fir.
Supplied with a fitted membrane that allows good drainage and ventilation and optimum conditions to give your plants the best chance of thriving.
Stands at the perfect height to avoid the aches and pains involved in traditional gardening methods.  No kneeling or heavy soil to dig.  Ideal for the wheelchair bound, the elderly or simply for those who, perhaps after a hard days work, want to take it a little easy.
Brings your plants up to eye level, the perfect height to enjoy them.
Available in various sizes to suit the scale of your garden, patio, terrace or balcony.
Suitable for growing nutritious and delicious fresh vegetables, even root vegetables with their ample depth, or gorgeous ornamental plants. You may even wish to combine the two.
Ideal for year round use.
Delivered flat-packed for easy assembly at home.
Plastic feet help to reduce rotting of the legs.
Available in natural or grey. Alternatively you can treat the wood in any stylish colour of the rainbow to suit your plot with water soluble food based treatment.
Can be filled with the perfect soil or compost for your crop so you do not have to put up with unsuitable, difficult soils.
Keeps plants at a height that is less susceptible to damage from pests, children and pets.
Can be placed close to the house for easy picking of herbs, vegetables or cut flowers in inclement weather.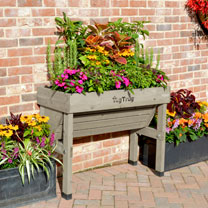 Available in a wall hugging version to suit tighter spaces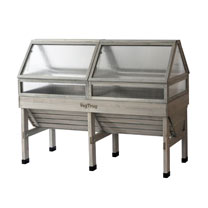 To retain more heat your Vegtrug raised planter can be fitted with an insulating Classic Cold Frame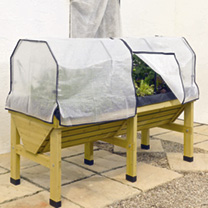 A custom-designed 60g fleece cover is also available to protect against pests, winds and frost.
For further dimensions and specifications view the products using the link below.
To view the range of Vegtrug raised beds and accessories at Dobies click here
Mark Snelling
Images copyright Dobies
If you have enjoyed reading our blog post then why not fill in the form provided to allow us to send you our blog posts and newsletters by email.