Many people have wonderful late spring and early summer displays in their gardens, followed by a rather drab time when all the earlier blooms have faded. The amazing Echibeckia 'Summerina' Series plug this gap by continually blooming through to the first frosts. Many of us will be familiar with Echinaceas (Coneflowers) in our gardens. You may also be familiar with the annual Rudbeckias. This breakthrough in breeding crosses the two to stunning effect with the best qualities of each. Below I have listed some of the benefits of growing this excellent modern breeding:-
Continuous, velvety blooms from July to November in warm, sumptuous colours that have inherited the dark central cone of the Echinaceas.
They love the heat of our late summer climate.
Although they will need to be watered, they are a drought tolerant plant and won't fade away if a day's watering is missed.
Suitable for containers or borders.
A great attraction for birds and our all important pollinators.
A delightful cut flower to fill your vases.
Tolerant of most soils.
Perennial plants to provide colour year after year.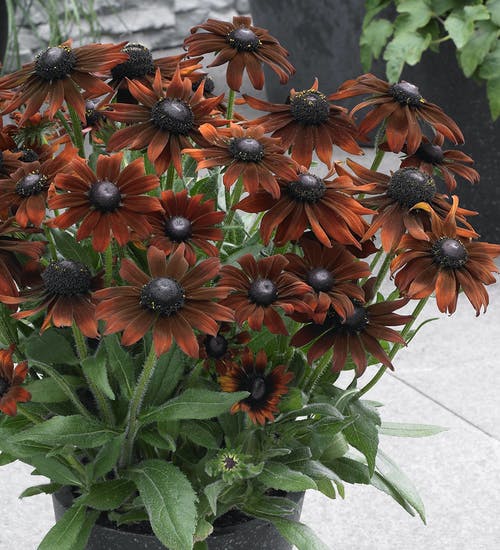 Some suppliers list these plants as only half-hardy. Others disagree. My opinion is that if you live in a harsh environment with low winter temperatures then grow these in a container and move them to the protection of a cool greenhouse or conservatory for winter protection. However if you are in more southerly regions of the U.K they are likely to survive our winters in the border by cutting back in late autumn and giving a winter mulch. Give them a sunny spot or one in semi-shade and they should provide you with a riot of colour. A fortnightly feed with a liquid fertiliser will help to provide plentiful bigger and better blooms.
To view these plants at Sarah Raven's website click here
Mark Snelling
Images copyright Sarah Raven
If you have enjoyed reading our blog post then why not fill in the form provided to allow us to send you our blog posts and newsletters by email.