A home filled with the fresh pine fragrance of a real Christmas tree is a treat not to be missed. It is something that an artificial Christmas tree can never replace.  With the deals we have chosen for you below the trees will be delivered directly to you, saving time and effort without forsaking the wonderful chance to cosy up around a proper tree at the festive period.
Potted Norway Spruce Christmas Tree

Christmas Tree – 100-120cm tall, pot grown Norway Spruce Christmas tree in a large pot. Perfect for indoor or outdoor use
The perfect living centrepiece for you and your family to gather round this year! This Christmas tree is perfect for bay windows or outside door decertations
Lovely fragrance, deep-green needles, a reddish-brown trunk, and perfect Christmas tree shape bring the scent of Christmas to your home this winter
Keep it in a patio pot and bring it in each Christmas – you'll never have to buy a tree again! Grow you very own Christmas tree every year
Supplied as one UK grown tree in a large pot. Perfect for indoors as a statement Christmas tree or in the garden as an outdoor Christmas tree
Nordmann Fir Cut Christmas Tree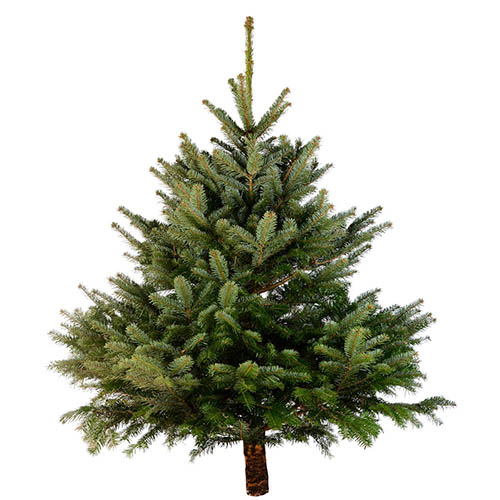 The original non-needle drop Christmas Tree this 5ft Christmas tree can be used indoor as your real Christmas tree or as an outdoor christmas decorations
Christmas – A real easy-care, family-friendly tree. This beautiful 5 foot tree brings the scent of Christmas into your hope. covered in lights children will love having a real tree.
Xmas Tree – Soft dark green needles make this and easy tree to handle. This tree looks beautiful covering in lights and baubles. Ready in time for Santa.
Outdoor Christmas Tree – Traditional tree shape which will last until Christmas when cared for simply place in a Christmas tree stand and water regularly.
Christmas Tree 5ft – Supplied as a netted, cut tree, 120-150cm high. Stand not supplied.
Living Pot-Grown Nordmann Fir
Buy a living, British-grown Christmas tree this year – the last one you need buy for years!
Combining the lovely fragrance of a real Christmas tree, with no needledrop and a living specimen that will grow from year to year!
The Nordman Fir is a newer type, with thicker spines , and bluish tinged reverse, and lovely pine fragrance
Grown in a pot for most of its life – not to be confused with 'fresh potted' which are dug up and dropped in this year
Supplied at a height of 100-120cm, keep outside all year once used for Christmas
A very merry Christmas to all from us here at Garden for Pleasure.
Images copyright YouGarden
If you have enjoyed reading our blog post then why not fill in the form provided to allow us to send you our blog posts and newsletters by email. For all major gardening products, visit our shop from the menu above.