Bred by French breeder Delbard, 'Belle de  Jour' is a stunning new rose variety that has become the fortieth winner of the competition held by Roses U.K. One of many entrants, it beat all others to the prestigious accolade after being tested in various conditions all around the U.K for two years. This gorgeous variety was expected to debut at the RHS Hampton Court Flower Show, which of course has been cancelled due to the Coronavirus pandemic.
Rose 'Belle de Jour' boasts Orange striped buds which open to a mass of golden, many petalled blooms, up to 7cm across, from June to October. The Floribunda variety has flowers with an intense scent described as 'blending the fresh scent of spring flowers with the rich, sweet notes of vanilla'.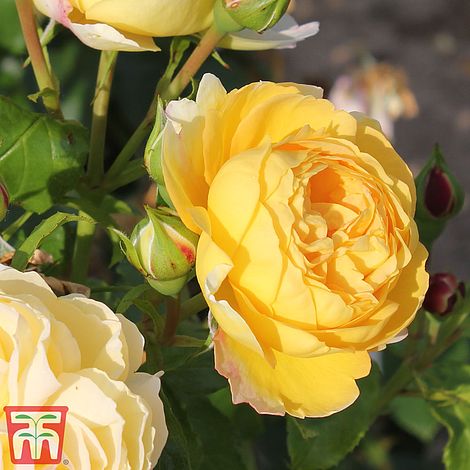 With a vigorous, upright habit and outstanding disease resistance, this brand new variety is suited to containers, beds and borders with a height of 150cm (59in) and a spread of 100cm (39in). It also looks great in the cottage style garden and as a beautiful cut flower.
Sure to produce delightful displays in our gardens next year, Rose 'Belle de  Jour' has been made available to pre-order so that you can be one of the very first  to own this rose, which is assured to be one of the best performing in our gardens.
To view this plant at Thompson & Morgan click here
Mark Snelling
Images copyright Thompson and Morgan
If you have enjoyed reading our blog post then why not fill in the form provided to allow us to send you our blog posts and newsletters by email.