Rose of the year 2019 is Rosa Starlight Symphony ('Harwisdom') (PBR). It is a single, white flowered, climbing rose with a  subtle spicy scent.  It is compact for a climbing rose and only grows up to 1.8-3m (6-10ft).  It is therefore suitable for obelisks, trellis, walls and pergolas and can be grown in large containers.  It is also prized for it's repeat flowering from June through to the Autumn.  The abundant flowers are produced in clusters. The delightful  white blooms with their pink tinged stamens are set off beautifully by the dark green foliage. The plant is disease resistant and healthy, and therefore easy to grow and maintain, and is suitable for full sun or partial shade.
Starlight Symphony was first showcased at the RHS Hampton Court Flower Show 2018 in the Festival of Roses Marquee.  The Award is given by Roses U.K after rigorous testing in diverse locations throughout Britain.  Trials assess the plant for two years.  Trial categories include flower and form, colour and novelty, fragrance, plant health and easy maintenance.  Starlight Symphony was bred by Philip Harkness of the famous Harkness roses in Hitchin in Hertfordshire.  The company has long been renowned for the quality of it's breeding.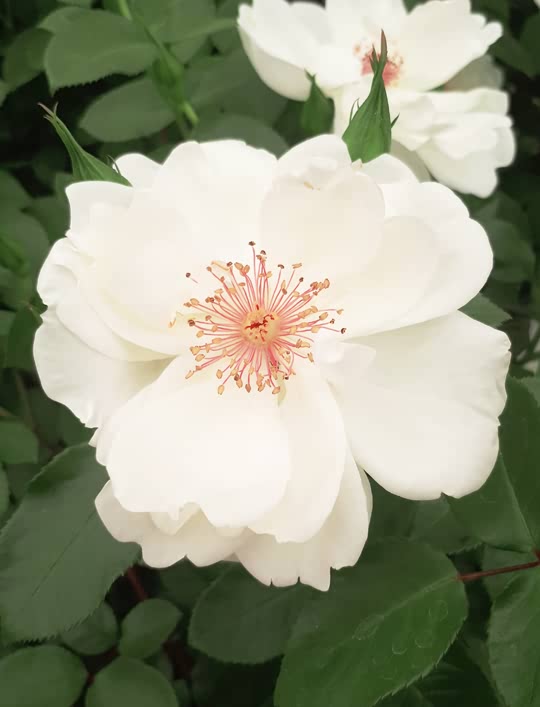 Because of the simple, single flower form it is the ideal landing pad for the all important bees and other pollinators which we must all endeavour to attract to our gardens for our own wellbeing and that of the planet.
If this wonderful rose that is so deserving of it's prize has tempted you then plants are now available from some of the suppliers in our supplier directory as follows:-
To view at YouGarden click here
To view at Suttons click here
To view at Dobies click here
To view at Unwins click here
To view at Marshalls click here
All images copyright Unwins
Mark Snelling