Daphne x transatlantica 'Eternal Fragrance' is a delightful semi-evergreen shrub famed for it's exquisite fragrance.  It has been awarded the RHS Award of Garden Merit, and therefore has been tested for it's outstanding performance in U.K garden conditions.  It's compact nature makes it ideal for containers as well as borders. The fact that this shrub flowers on the new growth ensures a steady stream of blooms keeps coming from April through to October, providing a very long season of interest in the garden. The pink buds open to reveal snow white flowers with a pink blush to the tubes.
With it's slow growth habit, it only has a height and spread of 90cm (36in). To me, the ultimate circumstances would be to plant a pair in containers either side of a door or pathway where their delicious scent can delight the senses each time you pass them.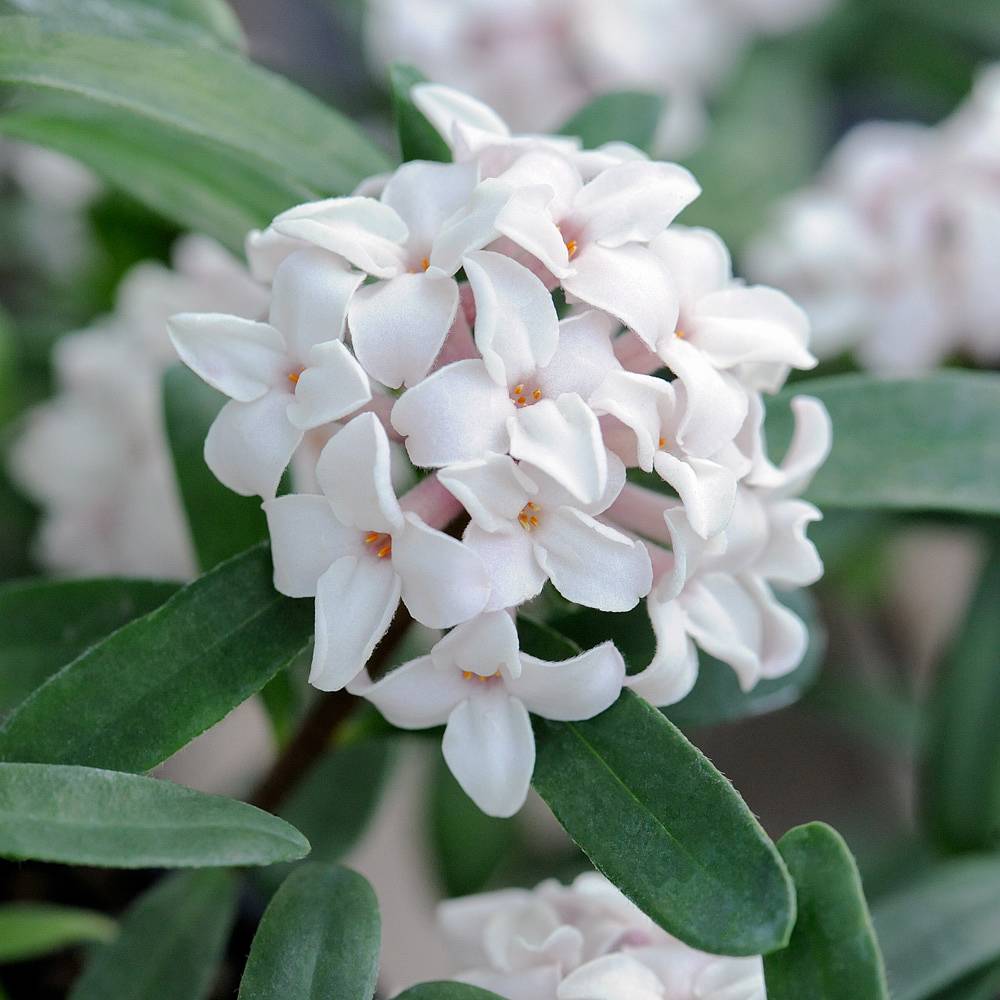 Daphne x transatlantica 'Eternal Fragrance' is hardy down to -15C and easy to grow, requiring only minimal pruning to maintain shape and remove any damaged growth.  It requires a position in sun or semi shade. Young plants may require growing on in frost free conditions before hardening off for planting out in spring. It requires a moist, fertile soil so regular watering and feeding is recommended. If growing in containers use a John Innes No.3 compost. Disturb the roots as little as possible as they resent this.
As well as the coveted RHS award it also  won a gold award in the 'New Plant' category of the Salon du Végétal trade show in Angers, France in 2013. It was one of 25 entered into the 'Innovert' competition and was given the top prize.
Daphne 'Eternal Fragrance' is protected by PBR and propagation for resale is therefore prohibited.
Caution: All parts of Daphne are toxic if eaten and contact with the sap may irritate the skin and eyes.
To view buying options at Thompson & Morgan click here
Further details of this and many thousands of other plants can be found in our Garden For Pleasure Plant Finder
All images copyright Thompson & Morgan.
Mark Snelling