It may seem an age away before the daffodils are poking their heads above the soil in our gardens, but we all need to get our orders in now before others have secured the best varieties and the cream of the crop.
We all think fondly of the classic yellow trumpet daffodils, but it is also lovely to have something different in our gardens, both for the variety of display and to have something to show off and be the envy of the neighbours.  Below I have chosen some of my favourite varieties of the more showy double daffodils.
Daffodil Acropolis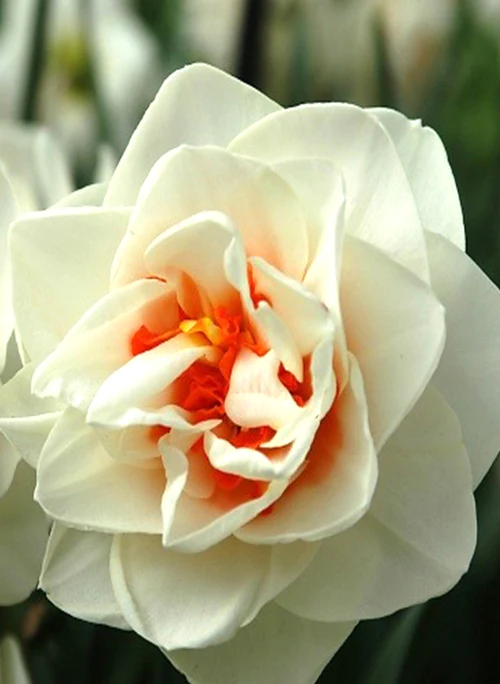 Daffodil Acropolis is an absolutely gorgeous gardenia-like double flowered daffodil. Characterised by pure white frilly outer petals interspersed at the centre by smaller tangerine and red petals, its pleasingly scented blooms grow to a rather impressive 11cm in diameter.  As with all daffodils, Acropolis is deer resistant and can be planted in any sunny spot of the garden.
Daffodil Art Design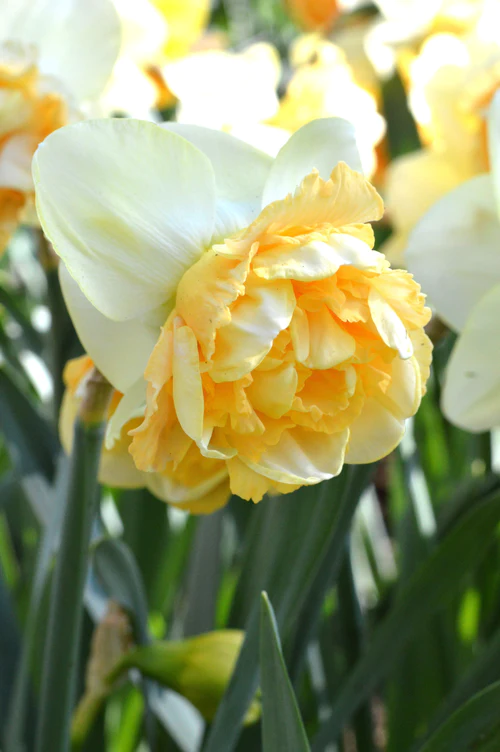 Daffodil Art Design is without doubt one of the most beautiful and elegant daffodils available. This beautifully fragranced double flowering narcissus has a centrepiece of yellow and white myriad ruffled petals that gradually transform into shades of buttermilk and peach as the flower matures. A firm favourite for bouquets due to its unique colours, gorgeous scent and unusual shape, Art Design is also a must-have for any garden.
Daffodil Sailorman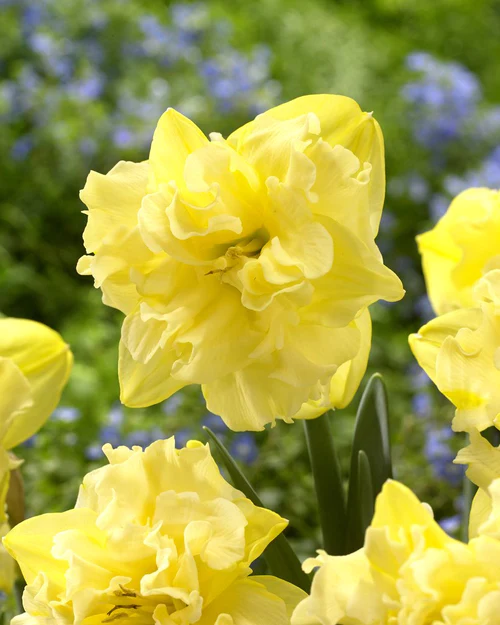 Taking frills and ruffles to a new level, the exuberantly showy Daffodil Sailorman is a sight to behold. Introduced only in 2019, this sunshine-yellow corona split daffodil is a Dutch-bred classic that blooms early- to mid-spring. Tall and strong, it makes an excellent cut flower and being a perennial, will come back to delight you year after year.
Daffodil Peach Cobbler

As sweet and delectable as its moniker suggests, Peach Cobbler is a two-tone double daffodil with multiple layers of petals in gorgeous shades of buttery yellow, warm apricot and soft peach. Not only beautiful to look at, Peach Cobbler also boasts a lovely sweet scent. A great addition to any garden, landscape, pot or patio, daffodil Peach Cobbler also makes a wonderful cut flower.
Daffodil Replete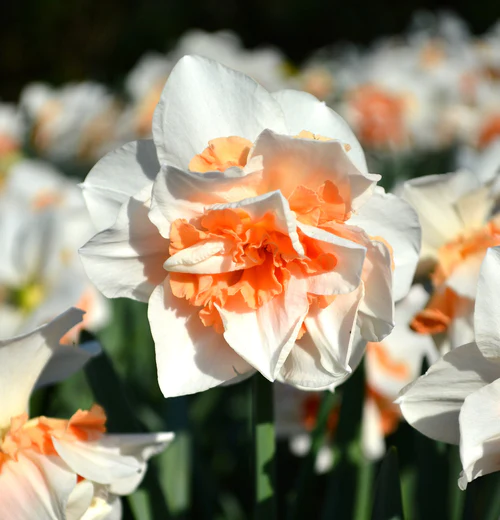 Daffodil Replete is an incredibly pretty double daffodil featuring large double white outer petals that frame multiple layers of ruffled coral and white inner petals. Sweetly fragranced, this variety is ideal for pots and containers or as a cut flower where its beautiful scent can be fully appreciated, but is also a superb naturaliser so makes a superb choice for any garden or landscape setting.
Daffodil White Explosion

Resembling a gardenia or peony, the gorgeous Daffodil White Explosion is a pure-white, late-flowering and sweet-scented double bloom. Starting out with soft creamy petals, as the flower matures these multiple petals transition to pure white. This long-lasting beauty will continue to bring joy to your garden, returning year after year without any special treatment.
All images and descriptions copyright Dutch Grown
If you have enjoyed reading our blog post then why not fill in the form provided to allow us to send you our blog posts and newsletters by email. For all major gardening products, visit our shop from the menu above.