Many among us are delighted by the appearance of the first daffodils, more correctly known as Narcissi,  heralding that spring is well and truly on the way. Some of us will always love the quintessential yellow trumpet varieties that perhaps remind us of halcyon days. There are of course many other types these days in a wider and wider selection of colours and forms, both single and double,  to delight the eye and sometimes the nose in the case of the scented varieties.
I have written before about expert blending of Tulip varieties providing even the most amateur gardener with astonishing spring displays.  The same effect can be created with Daffodils a little earlier in the year. Collections are available to us that combine complimentary forms, colours and heights of daffodils as well as varieties that will be in flower at the same time.  This is a feat that requires expert knowledge of many daffodil varieties to create the perfect combinations, and one that would be difficult for the layman to achieve.
Here I have showcased a few of my favourite collections available this year:-
Narcissus 'Citrus Sorbet'
This splendid mixture is pictured at the top of the article.
Thompson & Morgan say:-
We've excelled in the introduction of new daffodil varieties in recent years. So much so, we know it can be a hard decision choosing which one to add to your garden! Let us do the hard work for you! Our new Narcissus 'Citrus Sorbet' selection supplies you with a random mix of our newest daffodils. No pack is the same – order alongside your neighbour and you can be sure of two different displays across your gardens. The mix of daffodil bulbs will include everything from big, carnation-flowered doubles to pretty pink-petalled varieties. You won't be short of fragrance OR colour, that's for sure! Height and spread varies.
Narcissus 'Rainbow Butterflies' Mixed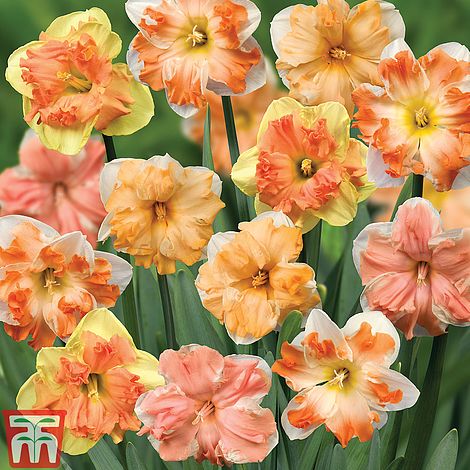 Thompson & Morgan say:-
Try these exciting split corona daffodils for a really remarkable spring display. This unusual form of narcissus produces wide, open blooms with split cups that create a whorl of petals, instead of the traditional trumpet shape. Narcissus 'Rainbow 'Butterflies Mixed' brings together a desirable blend of colour combinations that look sensational in spring borders or a vase indoors. Height: 35cm (14″). Spread: 15cm (6″).
Narcissus 'Double Duo'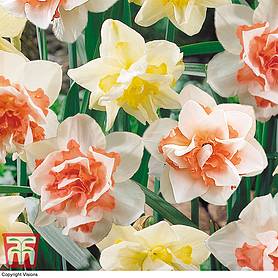 Thompson & Morgan say:-
Narcissus 'Double Duo' are an eye-catching blend of flamboyant double-flowered varieties, in gentle tones of lemon and peachy-pink. Their frilly blooms are held aloft on sturdy stems that make these a great choice as a cut flower. Perfect for filling patio pots close to the house, or planting in generous clumps throughout borders. Height: 40cm (16″). Spread: 15cm (6″).
How to grow
Plant your bulbs with the pointed end upwards around 10cm (4in) deep in sun or semi shade. This should be carried out from September to November, although from my experience they will still flower if you forget to plant them until December. They can be planted in borders, lawns and containers, and of course the cutting garden. A more natural effect can be achieved by casting the bulbs onto the ground and planting where they land. If you follow these directions, Daffodils will continue to bloom each spring for many years to come.
To view these collections and all the Daffodils at Thompson & Morgan click here
Mark Snelling
Caution: irritant to skin and eyes, harmful if eaten
All images copyright Thompson & Morgan
If you have enjoyed reading our blog post then why not fill in the form provided to allow us to send you our blog posts and newsletters by email.